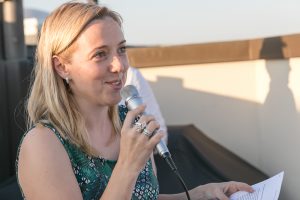 You might look for role models in your close ecosystem. So you might wonder, what you have in common with Dwayne "The Rock" Johnson's manager, a bodybuilder, wife and mom? "We are all leaders in a team and need to think what makes our team successful and most effective" argued our co-founder Darja Gutnick when we discussed this weeks #TeamPick. Darja is the growth co-founder at Bunch. After finishing her psychology studies, she spent three years researching organizational behavior as a full-time researcher at the University of Groningen and founded her first startup in Buenos Aires, Argentina. She also consulted for BMW and other corporate clients on HR and organizational development and has worked with Rocket Internet, N26, and other startups on developing high-performance leadership teams.
Her Tip: "9 Things the Most Successful People Do Every Day" published on inc.com
Summary:In case you do not have time to read the complete article – although it is worth it – here the 9 things you have to keep in mind to become successful:
Always think about your audience or customers before you start anything.
Think of your business as a separate living entity.
Find ways to lean in and double down on who you really are.
Stay creative and flexible by always focusing on solutions.
Always think about building an enterprise, even if that enterprise is just you.
Don't pitch — develop solutions for other people's needs.
Seek to always make decisions at the most effective level.
Realize that work ethic will always trump talent… but you still have to work smart.
Accept that you can't do it all — but also that you can do a lot more than you think.
PS: Thanks for reading our #TeamPicks. Let us know if you have recommendations. We are happy to also publish YOUR picks.