In this edition, CULTURED had the pleasure to talk with David Salemme, VP of People Analytics at Nielsen. He started with Nielsen 12 years ago and he's been a part of the People Analytics team for the last 2 years. A big part of his mission at Nielsen today is to democratize data within the organization and helping leaders and HR to use data for making choices, as opposed to just going with one's gut feeling. By spreading the insights from his people analytics team across the company in an accessible, actionable way, he hopes to affect meaningful change.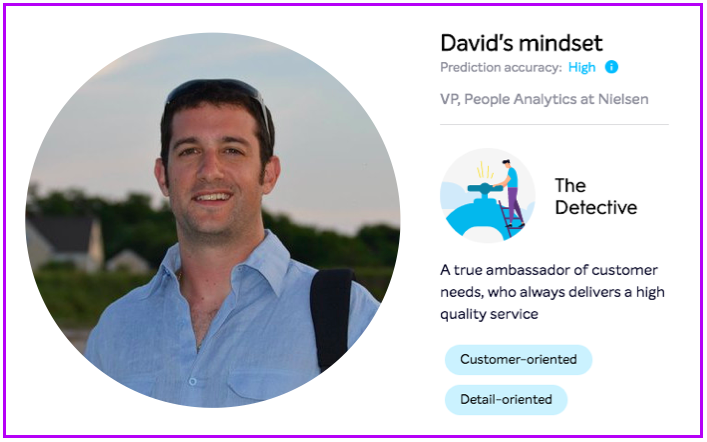 CULTURED: Hey David, what does your typical day look like?

DS: It varies, based on what projects and meetings are coming up. I manage a team of 5 folks: a data science person, database expert, a project manager and two advanced data analysts.
My typical day is definitely interacting with my team, making sure that they are well aligned with our strategic objectives and projects, stakeholder management, helping to translate numbers into actual insight, trying to partner with the different stakeholders and making sure that those insights are being used whether in specific actions, policies or interventions – because the goal is to create analysis that affects change.
CULTURED: How would you say, People Analytics at Nielsen has changed?

DS: Some hot topics are the representation of diverse associates in senior roles, how to retain associates in a competitive environment, and organizational effectiveness from a workforce standpoint.
These are topics where people are trying to come up with more refined ways, in which to measure and understand the distribution better.
The main way in which PA has changed at Nielsen is that it used to be about reporting the 'what', and now we are moving beyond that and getting into deeper analytics to figure out the 'why' and the 'how.'

CULTURED: What are some of the specific things that you are working on at the moment in that area Diversity and Inclusion?

DS: Our CEO recently made a pledge to have more women in senior leadership roles. Right now, we are trying to develop trackers to understand talent flow by business lines – how to achieve a high percentage of women in senior leadership roles in a couple of years.

CULTURED: What's the number one thing to make the data you have actionable?

DS: In terms of making data actionable, people need to believe/ trust in your data, that the data is accurate and representative.
People need to have a reason to affect change. Having a goal/ target for what that change will look like in a set amount of time plus having a tracker to measure their progress towards that goal – people are more likely to take action and be accountable for that concrete change.
CULTURED: Do you have any controversial opinions on people analytics?
DS: I don't know if this is controversial but I would say that Analytics are not the only answer. If we don't go out and talk to our associates to take that human element in, we're going to be missing something. Collect all the data that is possible but there is no data to capture everything – it's also important to go out and to do qualitative interviews to understand dynamics better and get a much fuller picture of the real situation. For a comprehensive view it's needed – get as much of a 360-degree view as possible.
CULTURED: When you look forward to the upcoming year – what are some of the biggest things on your mind?

DS: Going forward, one of the big initiatives is to make sure that our HR community is using analytics and the tools that we are putting in place for them – so that they know off the top of their head what their attrition rate is and if it's good or bad, what the composition of their workforce is, and if the profiles of the recent hires are aligned with the type of people that succeed in our company.

The goal is to have people that are comfortable with the data and this is what we want to strengthen even more, in the next 18 months.

CULTURED: How do you ensure that people are on the same page and get to where they "speak analytics"?
DS: First and foremost, it is important to use business intelligence visualization tools. Tools where people can log in and see the clear, organized data on a dashboard.
Secondly, are we having a People Analytics community of practice. We host monthly meetings with speakers to talk about using analytics in HR. We do projects where teams can address specific topics about analytics. This helps to build a community of a support system for analytics.
Third, do we set targets and benchmarks, if we know retention is an issue.
CULTURED: The C-level at Niesen seem very open to this analytics-driven approach. How much does it mean to have that executive backing?
DS: It is significant. We are a data and analytics company. It's the core of our company, therefore it's a natural cultural fit. That's the way in which we operate our business and that's the way we look at our Human Resources.
CULTURED: What are you most proud of since working with your team?

DS: Building the team into what it is now. That is not only because we have a strong team with a good collaborative nature, but because the PA team at Nielsen has an influence on the organization. We have a tight relationship with our finance team and the rest of the organization, which enables us to operate more efficiently.
CULTURED: last one – if you could give some advice to someone who is entering this field of analytics – what would it be?

DS: Sure! Let me answer this in three steps.
Step one is about getting your data clean – analysis needs to run on trustworthy data.

The following step is figuring out, what the few KPIs are, that we have to get right so that the business better fits.

Step three then is figuring out the roadmap.


CULTURED: Thanks a lot for the interview and see you soon! 

—
Thanks for checking out our Expert Series! We publish new interviews regularly with People leaders from Fortune 500 companies, hyper-growth startups, and everything in-between. To stay in the loop, subscribe to our email newsletter here: Beyond the obvious: Hacks for high-performance leaders and teams.