Success usually comes down to habits. So as leaders, we need to make sure that all of our habits are moving that needle. But which habits make today's leaders successful?
We've all heard about the mystical CEO who reads 200 books a year and gets up at 4 am to run a swift little 10-mile lap around the neighborhood before buckling down and getting to work. But are these anecdotes real?
Is this true of everyday leaders?

With this in mind, we dug into the daily life and rituals of modern leaders. We wanted to understand how leaders like you are leveraging their routines to form fruitful habits so we studied 23 top leaders in technology.
We ran a journaling study in which we asked leaders a set of 10 reflection questions 5 times a day, from the early morning until they winded down and we've surveyed these leaders on their learning habits, morning rituals and motivations to learn and grow. Each of the questions pressed into the overarching goal of understanding makes leaders successful.
As you read, you'll find insights into their internal processing, daily stressors, and how they ensure that, no matter what, they are constantly learning and growing and that's what makes today's leaders successful.
---
Habits are just one way you can cultivate success – the Bunch Leadership Coach has tips like this and more.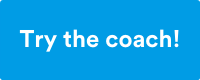 ---
Here's what we found:

1. They do have varied and extensive morning routines
One thing is for sure and not just anecdotal – leaders like you actually tend to be early-birds and have a lot of activities slotted in before work officially begins.

This makes sense because it's regularly proven that a structured morning routine can contribute to and cultivate success. Harvard Biologist Christoph Randler discovered that early risers are more proactive. "They're also more likely to anticipate problems and minimize them efficiently, which leads to more success especially in the business world."

Studies show that mornings tend to be when most of us are most effective, and adding a morning habit or ritual can positively impact your day. Whether that's kicking off with exercise, a book or simply making sure you get a decent, hearty breakfast before getting down to it!

Here are some of the activities leaders we talked to are doing in their mornings:

Reading emails or checking through Slack messages
Grabbing tea or coffee
Working out – many leaders cite exercise as a must-do before work
Reading the news or reading books for pleasure
Learning something new
Planning for the day ahead
---
We know how hard it is to start a habit – the Bunch Leadership Coach calendar integration can remind you to set good practices in place.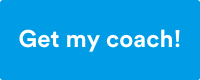 ---
2. They make time and space for reflection
As busy leaders, you've got a million things whirring around your brains at any given time. Being a leader can sometimes feel like putting out lots of tiny fires, created by tiny time-stealing goblins.
These goblins come in the form of managing teams, reporting numbers to the C-Suite, hiring and firing, presenting new opportunities, and so on. Add to that cultural and topical challenges like Covid-19 and learning how to be a more inclusive leader.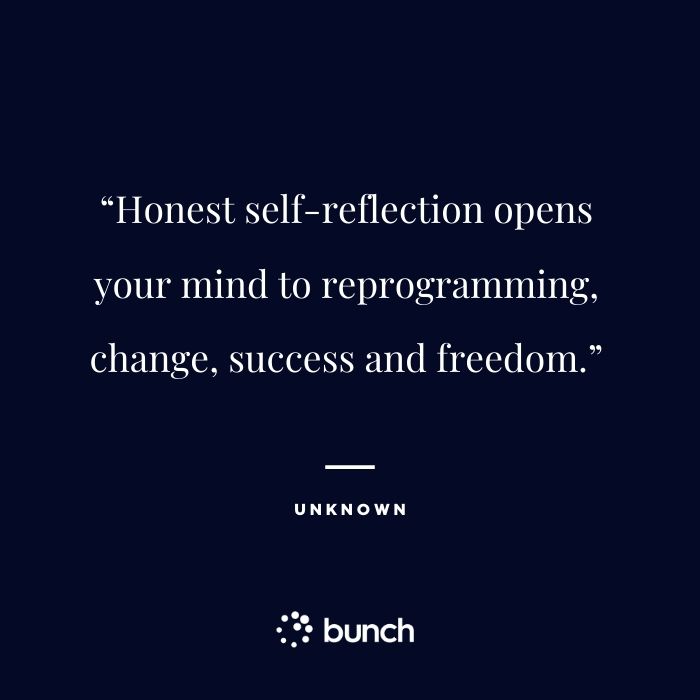 In summary: You've got a lot on your plate. Leaders we spoke to try to make time for reflection; to pause during or after their hectic days for as long as they can to consider challenges. The key word here is try.

The fact is that taking time to start a reflective practice takes, well…time. And that's something that leaders don't have a lot of. But the best of leaders know that making time now saves time later. Zooming out for that key big picture insight helps ramp up productivity and it doesn't have to take long.

One leader we spoke to said they had felt anxious all day and on reflection, they found that it was stemming from a well-liked person leaving.
In this case, if this anxiety went unnamed, then they might have made poor decisions instead of acknowledging the emotion. Dealing with unnamed emotions takes focus away from priorities that require attention. Reflection often minimizes wasted time.

In another case, the person reflecting was stressed about three project tasks that they had to achieve. On reflection, at the end of the day, they were all completed, and completed well! This style of reflection helps leaders to frame feelings on certain challenges in a more positive way.

Reflection has proved worthy of a leader's time. So much so that many successful leaders are doing it on the daily. While it's okay if you don't reflect every day, it's a great tactic to keep in your back pocket for zooming out and moving things forward.
---
Seeking more tips on how to build reflection into your day? Sign up for the Bunch Leadership Coach today.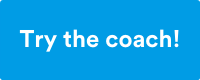 ---
3. They prioritize learning on a day to day basis
Speaking of moving things forward, learning something every day is a major way leaders keep it fresh. Eighty percent of CEOs believe the need for new skills is their biggest business challenge. But where does anyone find the time to learn every day? Most are time-poor (can you relate?) which affects their ability to dedicate time to learning. Learning a little something every day is a high priority. But honestly, most things are high-priority when you're in the driver's seat trying to haul your team toward your goals.
Leaders have found tons of great routines and habits, however, they haven't found a way to create time from thin air (yet). But they get pretty close through some common hacks.

The way in which leaders learn varies depending on their time and resources, but common themes include:

The majority of leaders prefer to learn through short, through bite-sized chunks.
Their next preferred way to learn was by doing a "deep dive" (i.e. reading full chapter or an entire book)
The third most popular learning method was using small moments of downtime – commuting, break, restroom trips (yep, we went there)
The leaders we spoke to said it was really hard to stick to a routine for learning. Most often because their bandwidth had the ability to change and vary drastically from day-to-day. Bite-sized learning fits into most leaders' days, and that's why it is such a popular method.
Our COO, Anthony asked his LinkedIn followers how much time they spent improving their leadership skills on a weekly basis. The results were compelling. So far, 38% of respondents spend less than 3 hours per week. 44% spend an hour or two each week with a book – bite-sized for the win!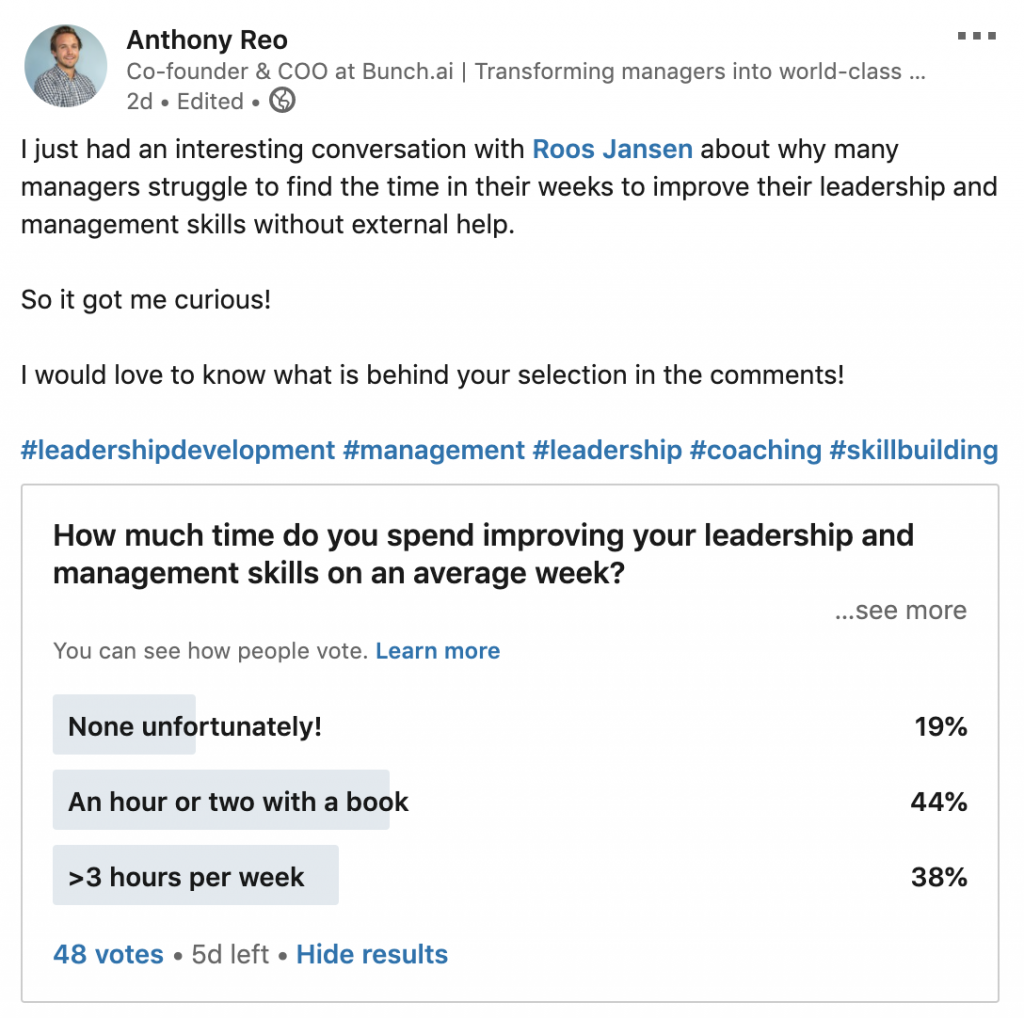 ---
Looking for bite-sized leadership tips? Sign up for the Bunch Leadership Coach today.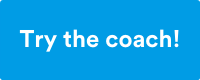 ---
4. They have developed a growth mindset
Leaders we chatted with and studied had one thing in common and that is a growth mindset. Simply put, they seek out challenges with a view to learning and are unafraid of risks. 'Growth mindset' is a common trait among leaders.

As the Growth Institute states, "a leader with a growth mindset sees opportunities for their team, even during times of crisis. They don't curl up in a corner believing all efforts have been wasted and they don't look for anyone to blame. Instead, they make every effort to accelerate their team's growth to overcome any business challenge."
5. They learn so they can teach their teams
One big positive of continued learning is the ability to bring new, actionable skills to work every day without investing leagues of time. Your team members can then benefit from these learnings in the moment, making your team stronger. Leaders don't want to repeat the mistakes of their predecessors. By taking learning to their team they're able to actively break bad management cycles and positively impact performance all round.

6. Take aways
We learned lots from the leaders we interviewed and surveyed. What stood out most was their commitment and dedication to growing as leaders and the commitment they make every day. It's inspiring that despite the state of the world right now, and the overflowing amount of To-Dos, leaders make the time to reflect, and to learn.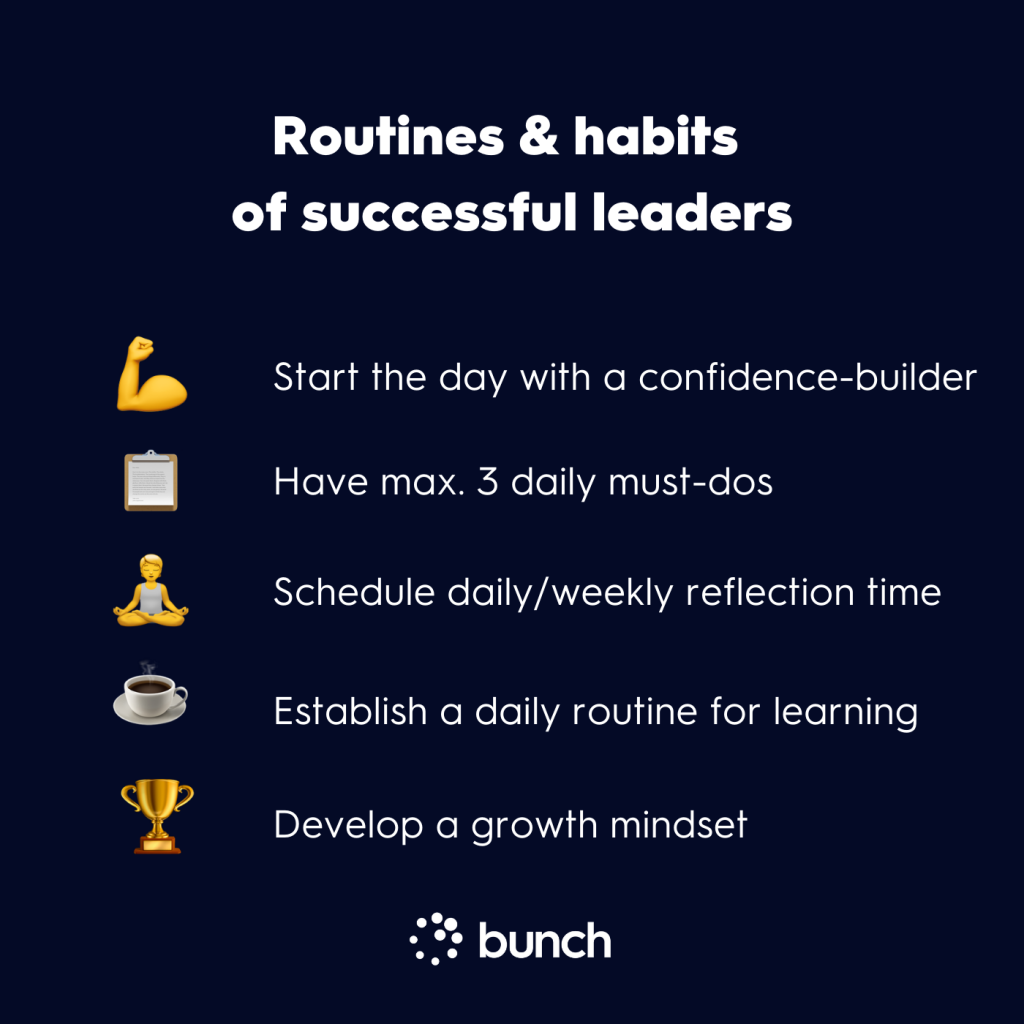 ---
How does your day stack up compared to the leaders we spoke to? Do you have any unique parts of your day? We'd love to hear from you.
---
If you're looking to level up your leadership skills, sign up for the Bunch Leadership Coach today.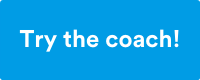 ---