In this edition, CULTURED had the pleasure to talk with Karen D. Weeks, VP of People at OrderGroove. Her professional journey to where she is now could be somewhat surprising for some: her career start was in the media and talent industry before she got deep into HR. On top, she's jumped between being a generalist and a specialist several times over the years. Regardless, her growth and path to success have been always driven by her passion for discovering how healthy and solid teams work. Read her experiences and insights and let us know if you agree with her!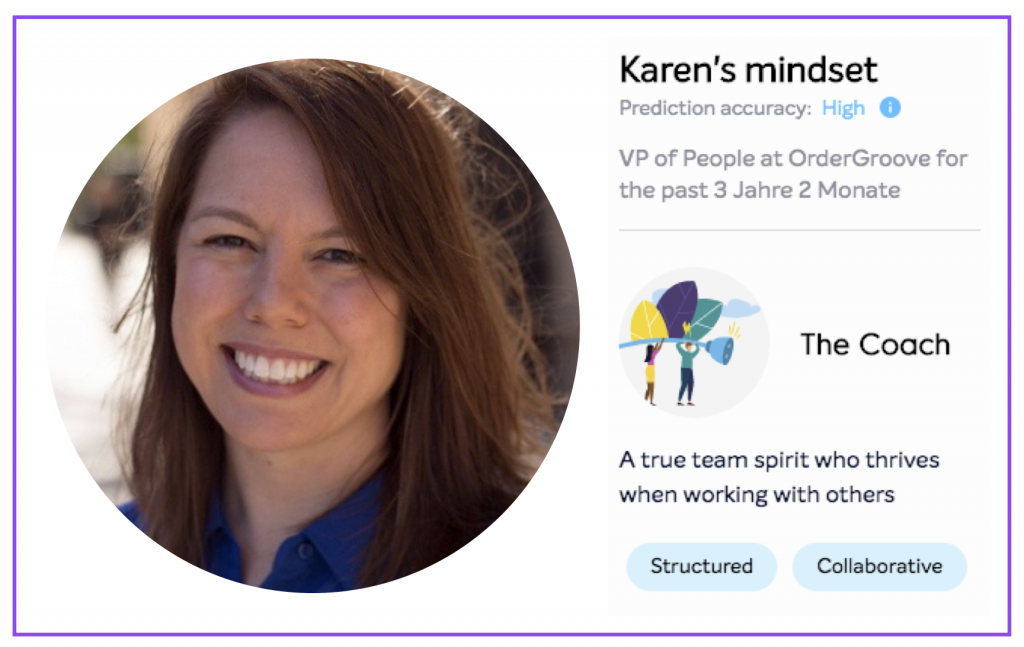 CULTURED: You've been in a leading people function for over 2 years. Tell me a little bit more about your work.
KW: I started when we were about 40 people, and now we're over 80. A lot of what I do is a mix of literally everything, which I love. It could be the day-to-day of working with our Senior Culture Ambassador, who does a lot of recruiting and office coordination office; or making sure our new hires are set up comfortably in order to create a great experience for them in the first couple of days.
We also help through things like a change in management—we're still a startup company so there's a lot going on. We analyze how our status as a startup impacts the team, we work with the team leaders and managers to ensure that they get the support and partnership both for themselves and also for their teams. Other tasks include helping with recruiting, thinking about the future and where we're going, making sure we hire the right people and are retaining those excellent workers that we wouldn't want to lose.
It really is the full suite of things.
CULTURED: How did you get to be the people leader that you are today? What were the pivotal moments that inspired you to do the work you do?
KW: It's funny because I didn't even start in the HR business. I was a stage manager and then I worked in Los Angeles for a talent agency. It was a lot of fun and I'm really glad that I tried it; it was interesting. However, I kept thinking: "If this is gonna be my life, I don't want it anymore." So when I finally decided that that wasn't what I wanted to do, I tried to focus on the things that I liked about the job. Basically, it was pulling things together to create a shared experience, and helping people with their careers. Since my dad was in the HR industry, I talked to him about it. He told me that there might be a job in HR that I'd like.
Thinking back, it was my first corporate job – helping a small mortgage company with some filing – that helped me find my place. I was talking to the owners about what I wanted to do and, since they didn't have an HR person, they asked me to help them with some admin stuff.  They helped me to learn the ropes, and then, along the way, I made the choice to go back and forth between generalist roles and focused, subject-matter expert roles.
I love training and development so I would often swing that way for a while. But it was the generalist roles that helped me build a stronger foundation. So when I was in a generalist role, I could also think about the smaller details, and when I was a specialist, I was able to look at the big picture.
I think another pivotal moment that literally got me to where I am today was working at Yodle for almost 6 years. It was an amazing experience! The company decided that we needed to bring together a shared services HR ops team, and to my surprise, a colleague that I had known for my whole time at Yodle asked me If I was interested in leading that team. It was one of the best decisions I ever made. I worked with her on some big projects, such as a new performance review process, redoing our career site, and rolling out talent planning. I learned a lot from her and, while being sort of a mini Head of HR, I said to myself, "Maybe I can do this!"
CULTURED: What does 2019 hold in stock for you and the company? What are the objectives you're working on?
KW: At the company level, we're focusing on scaling our technologies. Over the last 18 months or so, we've really expanded from exclusively online subscriptions with our retailers to in-store programs, predictive reorder, and partnering with different people, among others.
We need to scale our technologies to support all these new things. From my perspective, this means having the right people not just today, but also moving forward with the development of the great team members that we have. Furthermore, this also means pondering how can we help with scaling the infrastructure around our growing teams. As the teams get bigger, we need to ensure that the proper feedback communications are happening and that they actually provide value instead of doing them just to check the box. We also need to keep on top of the teams and identify how the changes in the infrastructure will impact them.
I'm a huge believer in transparency so, while we may have folks that are happy belonging to, say, a team of 20 members, they might not want to be in a team of 100. And that's fine – but let's have those conversations. I think this 1-on-1 relationship-building is so important as we go through some of these changes—which are good changes, but changes nonetheless.
CULTURED: What are your first ideas on how to enable that at scale?
KW: I think some of it revolves around finding the biggest gaps that are impacting the experience of our team. For us, it was last year. Onboarding was a mess. We had Google Docs and all that stuff so the technical structure was there, but we had no way to actually make sure that it was happening, so that was a place where we made an investment. We used Greenhouse for onboarding as well as recruiting, and it's made a huge difference. People can actually start to get to know others in their team, find shared interests, and meet up.
I think feedback and recognition is something that we'll need to focus on in 2019. While the conversations on the subject are ongoing, in order to scale it, we'll need something to help support it as we grow as a company.
CULTURED: What tips can you share about designing this experience in a way that it can actually move forward?
KW: First of all, it has to come down to focus. Just like our marketing team focuses on the right people to engage, my team needs to focus on what is going to have the most value in the organization.
With that being said, I think it's really easy to fall into the trap of, "We're gonna be this really cool tech startup and we're gonna do all the shiny things that are cool at the moment!" Those may not be things that matter to us. So we're working on figuring out what's important for us and above all else, what's important for us to be successful.
CULTURED: How do you approach this experience more practically? Can you share an example with us?
KW: It's a couple of different things.
First of all, we started using OKRs, which are Objectives and Key Results. This, as a company, has helped a lot. When we went through  shifts in priorities, we were able to look at our OKRs and say, "Okay, we're actually not going to do this; we'll do this instead because the data is telling us 'X' and so we're making 'Y' change."
We also built something that we're tentatively calling our "Leadership Development Team." We currently have our leadership team comprised of the executive heads, and then we've got this group of managers, team leaders, or even senior individual contributors. For instance, we have an architect that's been in the engineering team for over 8 years, so I want him to be part of these conversations whether he manages people or not. So we've got that group we use as a feedback channel to "test the waters."
When we thought about announcing some of these aforementioned shifts that we were going to have based on what we were seeing on the market, we wanted to get their impression first in the form of their reactions, and whether or not we needed to share more info. In a way, they're similar to a board of directors.
CULTURED: What are the things that excite you about the new people technology that is being developed? What are the things that worry you?
KW: One particular panelist I once shared the stage with runs a company that does VR for learning and development, and I never would have thought of something like that! I'm still getting my head around VR; I think it's so fascinating. So, overall, the way I think about technology is, first of all, working for a tech company, I want to make sure that we're cutting-edge in a way that appropriately represents the people we work with. I want to make sure that I'm presenting them with exciting things, but also refrain from going for things that are just shiny objects.
Also, I think that not being afraid to try something that's a little more out there—like the aforementioned VR for learning and development—, and talking through what is the ROI of making people more productive, more effective, and more engaged by doing something like that. Another form of interesting technology is all these onsite clinics, or mental health apps, or many other processes out there that, while they may not pertain to everyone in the company, the ones that do commit to them might benefit greatly from these workshops.
CULTURED: What does data mean for you, and what role does it play in your everyday?
KW: This is something I've been thinking a lot about. I realized that I tend to limit myself, and this is an area I need to think bigger on. I usually always fall back to the fact that this is a small company: I know why people are leaving, I know our turnaround rate. However, while working with Greenhouse, I noticed that we might be missing some of the data that we could be working with to improve our organizational effectiveness. For instance, I've always thought too conservatively about our turnover and those sorts of things, when there's actually more in there that I could be pulling.
The important part about data is being able to pull the numbers to tell a story. That's the bigger piece of it. The data is the first piece, but then what's the story? And more importantly, how can I respond to that story?
CULTURED: What unpopular opinion do you hold about HR?
KW: One of it definitely is what you call us: The whole shift to "People Ops," or "Talent Management," or "Employee Experience," which is ironic because we actually came up with the latter. However, while I think that it's kind of a neat title, I don't really care what you call me; it's more about the work I'm doing and the partnership I have with folks. This is mostly because I've seen some companies give us some really cool titles, but then partner with the function like we are just police, benefits, and payroll so the title didn't change anything. I think that, while policing people is sometimes one of the responsibilities that come with HR, it's far from my overall function and from what I'm adding to the company.
CULTURED: What was the best advice you've gotten recently?
KW: Remember that you are invited or are in that room for a reason. You are bringing a perspective that's really important. It doesn't mean that you have to talk the whole meeting; just share your insight when you have it—your little nugget here and there. Regardless, you're there for a reason, so you need to find your purpose in those moments and find the confidence to bring what you can bring to whatever table you're sitting at.
CULTURED: Thanks a lot for your time and insights, Karen! 
—
Thanks for checking out our Expert Series! We publish new interviews regularly with People leaders from Fortune 500 companies, hyper-growth startups, and everything in-between. To stay in the loop, subscribe to our email newsletter here: Beyond the obvious: Hacks for high-performance leaders and teams.