In this edition, CULTURED had the pleasure to talk with Alison Eastaway, Head of Talent at Sqreen.
"I am always looking to see how we can add more value through initiatives, without adding more complexity in our processes."
Alison talks about her passion for Learning & Development and initiatives for more collaboration, diversity and knowledge exchange at Sqreen.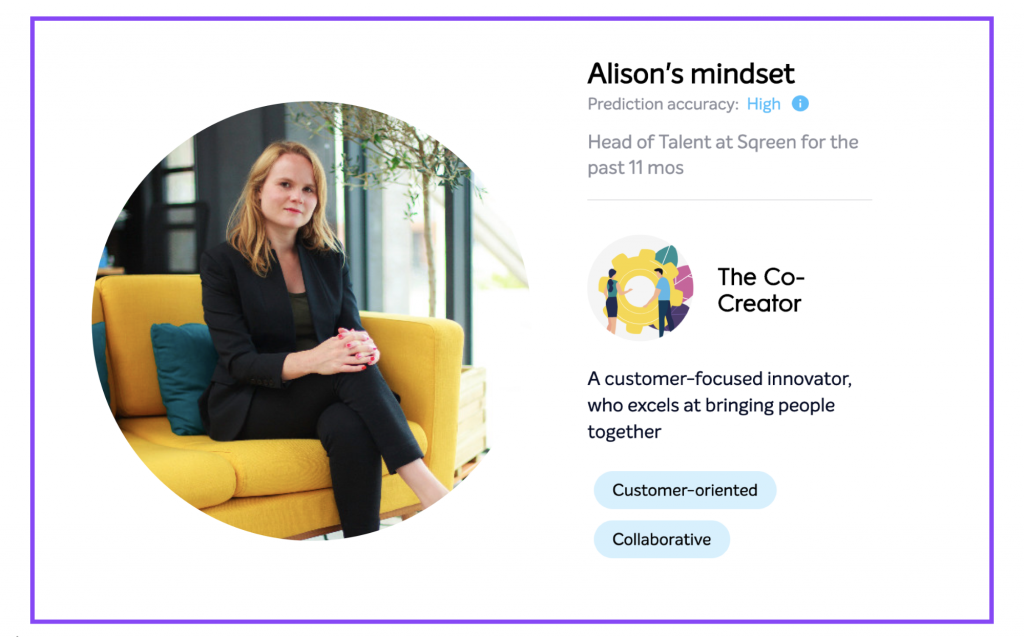 CULTURED: Hi Alison, you are heading the people function at Sqreen. This must be exciting as Sqreen is growing so quickly. What are you currently responsible for?

AE: I am responsible for all things people-related, such as: recruiting, organizational design and partnering with Sqreen's leadership team. I also sometimes advise and coach founders in the startup community that need advice on all things people.
CULTURED: Oh wow, you must certainly be super busy!

AE: Yes, but I love it! The reason I like startups is that in startups there's this nice thing that happens. Knowledge starts to flow across different companies, in the community. At Sqreen we practice the pay it forward approach. People mistakes are costly for companies and individuals, and if a quick call or one of my Medium articles can help prevent them, I will do that, also for other startups.
In France the level of excellence on subjects like management and talent is just starting to develop. I want to help level-up the community. As a company, we want to win great candidates and build a great team, because we are doing a great job on all things people, not because we are the best ones in a mediocre community. So I am working constantly to lift the bar on how we build teams and practice HR in France, in startups and beyond.

CULTURED: What are some of the specific things that you are working on at the moment?

AE: Well, we're in a growth phase currently. We're adding 10-15 people here in France and also some in San Francisco. We're really really busy with hiring, partnering with the business to make sure we're growing in the right way. I also have 2 pet projects I currently work on: our D&I initiatives and the Sqreen Academy. It's no secret that tech companies can struggle with diversity, the security industry is extremely male-dominated.
At Sqreen we believe that we need a wide range of perspectives to achieve our goals. Diversity to us isn't a nice to have, it's a business imperative. We're committed to having diversity at all levels of the organization. We believe that having more women in leadership roles is a key step in our journey. We recently brought on board the exceptionally talented Beth as Sqreen's Director of Engineering. Also, 2 out of our last 3 hires in our San Francisco team were women.
The Sqreen academy is an internal initiative I'm personally very excited about!  There's this danger when you start to grow, you scale your teams and that's when you drop your average. We're convinced that if we can leverage internal skills and knowledge across our whole team, we can actually raise our average as we grow. We noticed that our engineers were sitting together many times and explaining stuff to each other one-on-one: this was great! Then others noticed and they started asking if they could join the sessions. We then started recording these sessions and putting them up online and sharing with the whole team.
That gave rise to what we now call our Sqreen Academy. From an HR perspective, we not only support the grassroots initiative that our teams took. We try to find good tools and provide enablement to share knowledge faster and empower people to grow even faster. That, without adding unnecessary overhead, which makes all that learning challenging.
I am always looking to see how we can add more value through initiatives, without adding more complexity in our processes.

CULTURED: Sounds very useful, how do you achieve that?

AE: For instance, if we find we're going back and forth via email on a subject we'll quickly take the conversation into real life, to reduce complexity. If something feels too hard we're probably missing something and should change track immediately.

CULTURED: That's a great hack! Can you share some more tips that you learned running the people function for a high-growth startup across 2 continents?

AE: Well it's important to be proactive about things. Before announcing our last fundraising round to the public, we talked to our team and made sure they knew what the future looked like for them, what the opportunities are and how we see their growth and development. We have an exceptional team at Sqreen, that's no secret. That means our Sqreeners get quite a bit of attention from recruiters.  Our approach to that is that we don't wait till there's a problem to fix. We move fast and try to see around corners and think ahead as much as possible.


CULTURED: What are you excited about currently in your work?

AE: I'm really excited about Learning & Development – I'm a big training nerd and am really passionate about that. For me, talent, skills, capability aren't static or something that fits neatly into boxes. At Sqreen we do regular brown-bag lunches, for instance. Sharing and learning are in our DNA. I enable this further by helping our team to figure out what they need to know, or what they want to learn, both in- and outside of their current role.
We take a decentralized approach to Learning & Development. We were doing a lot of training already, but then we started associating onboarding with building skills. When we bring people on board, we give them training. At some point, we noticed that people that were already through onboarding wanted to jump in because they found the content interesting, or they wanted a refresh.
So we started to think about how to scale it. This is what we came up with: We have started with one format where the expert prepares the content, opens the session to the team and presents it live. Then we started a second format: a quick video to explain something that is worth knowing. Every time you do a one-to-one session to explain something to someone, you can this way teach someone else in the company the same knowledge. So I am currently looking at tools that can help us organize all that content to make it even more scalable.


CULTURED: Let's talk about the other side, what are your biggest challenges currently?

AE: We have some big challenges. The biggest is knowing where to start. Since you can't do everything at the same time, you have to focus. For instance, we took a long time to find our Director of Engineering. That meant keeping our engineering structure very flat for longer than probably ideal. Avoiding quick fixes in pursuit of a mid-term strategy was the right thing to do, but it had short-term tradeoffs.


CULTURED: Let's chat about your background a bit more. Interestingly, don't you originally come from an HR background, so how did you arrive to run the People efforts at Sqreen?

AE: It's always easy to construct a coherent narrative when looking back, but in general, at each step, I decided intuitively what was next. I never really planned a career, and I've been working since I was 14 years old (the first part-time job was selling croissants in a bakery!). So I've worked for many different companies in the past 16 years! My dad had an incredible, unconventional journey too that inspired me. He worked his way up from the ground floor (literally – he was cleaning the parking lot) to a key high-stakes role in financial trading. In the same company, he went from blue collar to executive level. He did what he was doing really well and seized opportunities when they came.
Looking back, my approach was similar. Be where you are right now, do what you are doing really well and you will succeed. While dad was out building the future of foreign exchange my mum stayed home, even though she too was a skilled banker and had aspirations of going into law. She is a rockstar: I learned all people things from her, and I also learned importantly that making a real difference and using your skills to better the world doesn't always fit neatly on a CV.
Throughout my career, I always had jobs that included people (hospitality, customer service, teaching) and communication (speaking, languages or writing) and so I ended up in HR just by chance. I still love writing, so today, for instance, I started to write our employer branding blog on weekends, because I enjoy it, and with Sqreen's support I recently published a fun children's book based on the tech ecosystem.

CULTURED: And looking into the future, what are your goals for this year and how are you progressing in them, both personal and professional?

AE: As for personal & professional growth, I am currently looking for a mentor. I had a great discussion with a coach the other day. I am skeptical of coaches normally, but the meta-lesson from this meeting was that a good coach can open your mind and help you identify your pitfalls and sanity check your world-view. For me, it was always challenging to find the right people to help me, because the people I pick, might not be the people I need. I probably need to grow in areas that are uncomfortable for me. For instance, I am not the world's greatest delegator, so building my own team will take some growth on my part.

CULTURED: What was the biggest leadership learning you made in the past months?

AE: Hmm… I think I learned once again, that people are rarely trying to do the wrong things on purpose, it's just that wrong things look like the right things often. I'm also still working through the piece on "leading while female" –  it's a fine balance to know when to hold your space and when to make space. I am still trying to figure this out.

CULTURED: Let's chat about people analytics: what is your take on the field? What excites you and what worries you?

AE: From a business point of view: you should always understand the ROI of people initiatives. The problem is that people's behavior is not linear. My assumption is that by investing in L&D early we will reduce turnover. But in a startup, you often don't have a baseline, since you build from scratch, so it's harder to compare and understand where you stand.
What worries me is the use of analytics and predictive recruiting: I have such high expectations as to what the industry should do: historically human judgement in hiring decisions has been so flawed so how can we actually teach AI to make better judgements?
I also worry about the lack of diversity in ML teams, it's all highly educated, largely white, male teams. VC-backed startups have pressure to provide value early. It's difficult to get the algorithms to a high quality in predictions, before bringing them to market. The market is full of early (too early) stage products based on algorithms where we don't yet understand how good or bad of a job they are doing. So you need lots of cash and lots of responsibility in the founding team to really make the ML-enabled products work in the long-run. You also have to be fundamentally convinced that the existing system is broken. What we need is a new system, not a way to make poor decisions, faster.

CULTURED: Who are you currently following, reading and listening to and why?

AE: Hung Lee from workshape.io. I like that he gets things done, he builds energy and community and he is doing a lot for the recruiting industry.
Brandon Cohen – he is an amazing mentor, super knowledgeable and humble – at least half of what I know was gleaned from long conversations with Brandon.
I have to admit I am a bit anti-podcast, since I am a big reader! I want to read more and more; books, blogs are my thing: I like that reading goes at my speed. At home and work I am always surrounded by bits of paper. And the idea that you can listen and do something else at the same time, feels wrong to me. I want to focus on what I am reading.
Currently I am reading 3 things:
Emotionally intelligent office from School of life (the content is great, btw!);
Uterus is a feature not a bug (not far in yet, I am gonna see where it goes);
Blogs: Anything from Netflix from a people point of view;
And if you are looking for a good resource on 1/1s check this out: https://randsinrepose.com/archives/the-update-the-vent-and-the-disaster/

CULTURED: What unpopular opinions do you hold about HR?

AE: I dislike the agency recruiting model, it's totally broken – the future of recruiting isn't transactional, and the agency business model forces it in that direction. Also, reference checks in their most common form. They lack context and often say more about the person giving the reference than the candidate.

CULTURED: Alison, it's been a huge pleasure, thank you so much for your insights!

—
Thanks for checking out our Expert Series! We publish new interviews regularly with People leaders from Fortune 500 companies, hyper-growth startups, and everything in-between. To stay in the loop, subscribe to our email newsletter here: Beyond the obvious: Hacks for high-performance leaders and teams.