This week, CULTURED caught up with Emre Tuncbilek, an inspiring former engineering student, entrepreneur, and sales manager-turned-People leader. Today, he's Head of People, Culture and Happiness at App Samurai, a fast-scaling company in mobile advertising. He was kind enough to share some wisdom with us on sunny morning from Istanbul.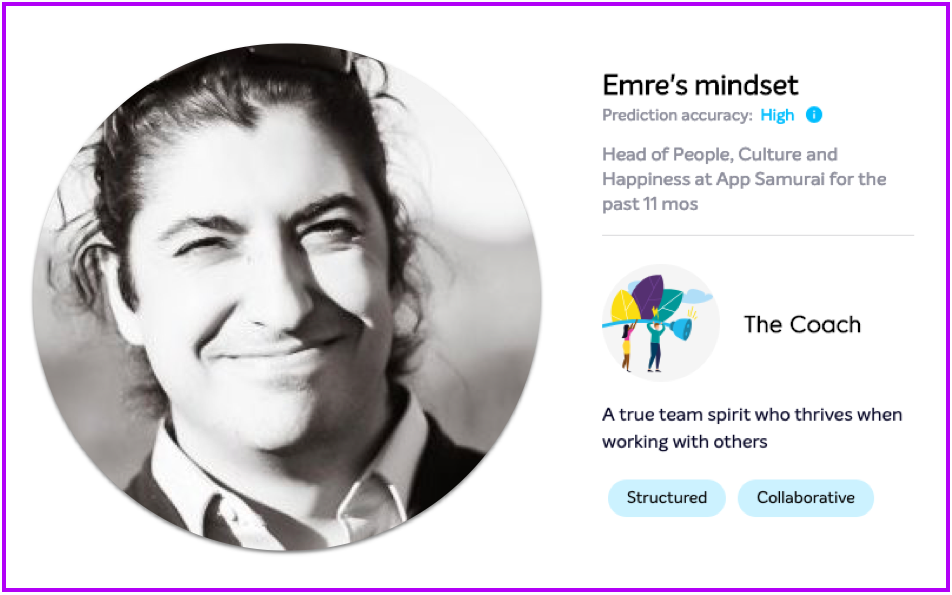 CULTURED: You're the head of people, culture, and happiness at App samurai. Can you tell me a little bit about how you ended up here?

ET: That's a good question! I actually have an engineering background, and I've also tried my hand as an entrepreneur. I've also worked as a sales manager where I built a few sales teams, but it wasn't until my MBA program that I realized I wanted to be in the People space. I was in Hawaii, and one of my professors was Bob Sigall, the top business consultant in Hawaii, who taught part-time.

I remember thinking it was curious that he didn't have an MBA himself – he studied psychology instead. I became a Teaching Assistant for him and learned as much as I could. He taught me that all business problems are ultimately about people – not plans or Excel sheets. It opened my eyes to a whole new world. After the MBA, I got into executive search, and I found it interesting that the top executives weren't switching jobs for higher salary: there was something more to it than money. I also saw that they sometimes struggled to adjust to new environments so I started assisting them with that. I dug into research from people like Charles O'Reilly and that's how I found my niche in people, culture, and happiness.

CULTURED: What does that role entail at a company like App Samurai, which is growing fast?

ET: I travel around to our different offices, always asking myself: what can I do for our people today? How can I make them happier and wiser? How can I communicate the importance of their work? There's also recruiting and hiring. It varies a lot, but I'll spend anywhere from 20% – 80% my time on recruiting.

As a member of the tech community, I like to think of people, culture, and happiness like a computer.

You have your hardware: that's the actual people and how they're organized. My approach is to cluster people not based on function per se or titles, but rather to divide by problems: what are they trying to solve for the customer and for our business? Then I create "solution units".

There's also software: you need to have systems in place for how people work. This is where culture comes in, but also things like OKRs.

Finally, you have your power source. This is where happiness comes in, because if you can understand what makes your people happy, you can tap into their motivation and bring energy to the hardware and software. From a practical standpoint, that means I need to make sure every employee understands the value of their work – the importance of every line of code, every sales call, every bank transfer, etc.

CULTURED: What's the keys to a good company culture?

ET: Culture isn't just colorful balloons like people think. It's much more than that. The first step is understanding the business model and the strategic goals of the company. Then you have to engineer the "software" (to go back to the computer analogy) that supports your business model.

Then another hard part is understanding your problems – your strengths and weaknesses as a business. Where are we as an organization, really? That's a measurement problem.

People are unique, but when we look at a lot of people, we also see there are patterns. Understanding those patterns is the key. You have to put together the pieces of the puzzle and it's really hard. I still have to rely on my intuition and personal experience too much. Companies need better tools to overcome the impact of personal opinions, biases and prejudices. I'm counting on Bunch to help me solve this!

CULTURED: That sounds like it requires significant involvement from company leadership, how do you engage executives in this process?

ET: Absolutely. The key for engaging leadership is for People leaders to have a seat at the table and be a part of strategic discussions. For this to happen, you need to show the C-suite that you understand the business as well or better than anyone in the decision-making core. You can't just be the HR specialist. I've been fortunate enough to have that kind of support from our board from the very beginning.
CULTURED: What's the biggest change you've seen in your field over the past couple of years? What's next?

ET: Businesses used to talk about Human Resources and Human Capital Management, and a lot of the work that we do today started out as "churn analysis". Even now, when you raise capital, you get asked for a business plan – you don't get asked for a leadership plan or a culture plan. But businesses have started looking deeper and seeing the power of understanding people instead of just roles or headcount.

With the technology available today, I think we're on the verge of a new breakthrough in People and Culture that's really wonderful, but it's up to us to ensure that this future is a utopian one instead of a dystopian one. We as an industry need to make sure that what we do has a positive impact on the world.
—
Thanks for checking out our Expert Series! We publish new interviews regularly with People leaders from Fortune 500 companies, hyper-growth startups, and everything in-between. To stay in the loop, subscribe to our email newsletter here: Beyond the obvious: Hacks for high-performance leaders and teams.