We've had the pleasure to catch up with Michèle Taipale for our latest edition of CULTURED. As a Leadership Coach for The Wharton Executive MBA program and as one of the founders of Futurosity together with her partner, Robert Ellis, she's been helping high achievers lead, transform, relate and communicate effectively for decades. Michèle is a passionate advocate for human potential and, in her 30 years of experience, she's been aiming to better the world by empowering changemakers to believe in and follow their dreams.
During this interview, we've discussed with Michèle the challenges that newly minted managers who lead for the first time face to fulfill team expectations, the importance of setting up your company culture from day 1 and her top three advice for founders of startups. Time to dive in!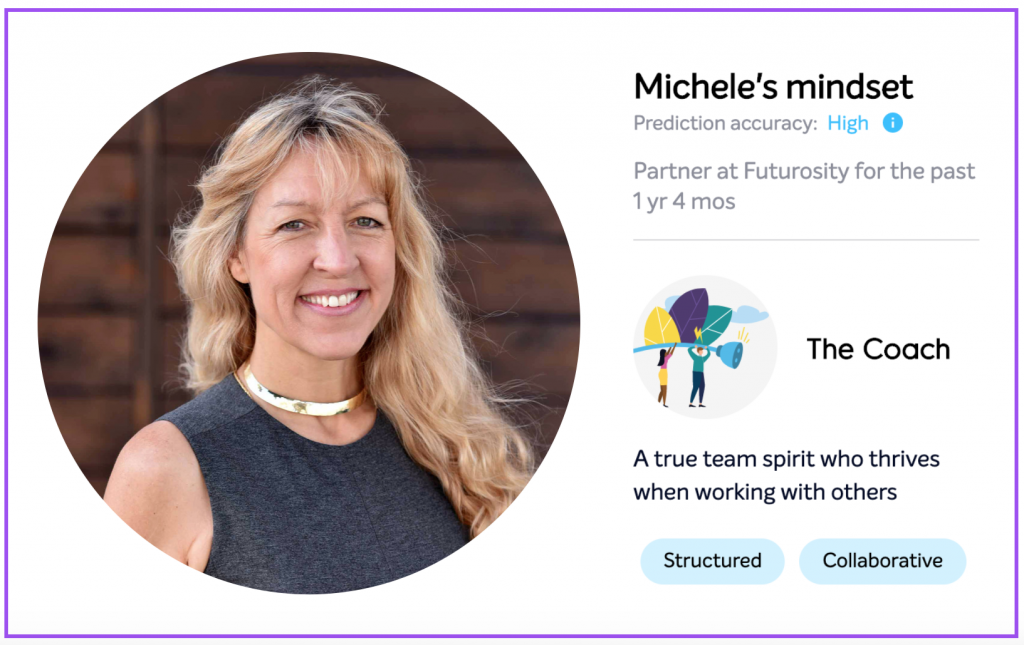 CULTURED: Throughout your entire career, you've worked to inspire people and business owners to lead successful teams. What does your typical day look like in this line of work?
I've been in leadership development in one form or another for a long time. I have an extensive executive coaching practice in the Bay Area: among my clients are the Wharton Executive MBA program, many founders and entrepreneurs, as well as senior executives at larger companies. I also do a lot of pro-bono coaching and mentoring in the social impact space and for young women leaders through The Coaching Fellowship and Women Unlimited.
Recently, I've created a new workshop called "Sex, Love, and Leadership". There is a clear nexus between my work in leadership development and my work in personal relationships. To thrive in either domain requires deep self-knowledge and self-reflection, as well as cheerful daring and a willingness to always be learning.
How we show up at work, and how we show up in our most personal lives is linked and it takes tremendous courage to be genuinely authentic in either realm. When I do these workshops, people suddenly recognize the ways they don't really show up and the connections they've missed between how they are in their personal and professional lives.

CULTURED: What was your first job, and how did it lead to where you are now?

Early on I wanted to become a writer. I have a Master of Fine Arts degree in Creative Writing and Poetry. Soon after graduation, however, I realized that writing poetry was an unlikely way to make a living. I then followed another passion and trained horses and taught riding. That's how I started my first business at 21.
I had always been a rider and I loved horses but knew nothing about running a business, and I quickly learned how much I didn't know. I also discovered the difference between being passionate about something and trying to make it my business. After 4 years of cold winters, hammering ice out of water buckets, barely getting by financially, and working 12 hour days, 7 days a week, it was time for a change. In my career with horses, I had no time or energy to actually enjoy the horses anymore.

I joined the United States Equestrian Federation and soon found myself in a leadership role in this organization that served around 60,000 people at the time.

It was a challenging organization to work for, a not-for-profit serving some of the wealthiest people in the country: those involved in equestrian competition. At the time, the culture was terrible and they had a very indifferent attitude towards their underpaid and overworked staff in New York City.

I was fortunate to have a very public job as the Director of three international disciplines and it was an incredible learning experience. Most importantly, I discovered that one person can have a tremendous impact on an organization through hard work, determination, and courage. I also realized that, once again, I was doing business, and it was high time I actually learned something about it.

That's when I decided to go to business school, where I had my eyes opened to all the underlying systems and forces that make the world go round. Economics, accounting, management, marketing and more; these were all new disciplines that gave me fresh perspectives and an appreciation for the incredible complexity of global commerce.

From there, I joined the consulting firm A.T. Kearney in Germany and coming back to the States a few years later, I eventually started my own consulting firm. What I learned in my consulting practice working with complex global alliances and joint ventures, was that 90% of the projects that failed seemed to fail because of "people issues": things related to the essential skills that are often dismissed as "soft" skills.

It's easy to bring together brilliant people from top business schools to come up with good strategies. However, no matter how clever the strategies are on paper, if you can't get people to implement them, they are worthless. And the things that stop people from implementing these strategies are more subtle: things like the culture of the organization, what behaviors get rewarded, the emotional maturity of the people involved, their understanding of the purpose of the project, and whether or not they have the necessary skill sets to do it.

These elements mark the difference between projects that are successful and those that end in failure.

Seeing the importance of "people issues", I became curious about the science behind thriving in both the workplace and in our personal lives. In Cambridge, I had the privilege of joining Ellen Langer's Mindfulness Lab in Harvard's Psychology Department. Her research has shown how small tweaks in priming and mindset have an enormous impact on outcomes in everything from healing to productivity and test-taking.
A little bit of mindfulness in how we create our workspaces, how we interact with one another and build our culture, can improve productivity, retention rates, quality, well-being and more.

CULTURED: What are some of the typical challenges that you constantly see in the field of executive coaching?

Robert, my partner, and I, both work with a lot of people in the startup community. We've noticed that the way companies start here in Silicon Valley, where there is a lot of money flowing, and a lot of funds in the hands of inexperienced people with great ideas and energy—basically lots of anything but experience — a lot can go wrong quickly.

There's not always enough intention in the birth of a company. Sometimes, it's you, me, and another friend. We have a great idea, we build a bit of traction, raise some money, get some other friends on board, and so on. At that point, we don't formalize or think through how we're going to work together as we grow, how we're going to ensure we create a culture that is inclusive, supportive, productive, and open.
There are many very inexperienced leaders doing difficult and important things, and it can be lonely at the top. We work with some CEOs who have always been entrepreneurs and have never really worked under another person.

It's hard to be a great leader if you've never been led.

A lot of people in their twenties who are trying to build and lead organizations, actually don't have any experience being well-led.

Inexperienced leaders often feel that they need to have all the answers. They feel a responsibility for the lives of everyone who works in the company, and to those who have put money into the project. This creates tremendous pressure and creates a loneliness that can paralyze. It affects their personal lives, their relationships, everything.

One of the things that Robert and I have been talking about creating is the Startup Accelerator for Bodies, Hearts, and Minds. The idea is to complement the skills required on the tactical side of business building, with a deeper understanding of true leadership and the importance of nurturance and care of the body, heart, and mind for the long term functioning of the company.
This is the place where we see more of a gap when it comes to understanding how to grow an enduring company. You must build resilience in yourself, and through that, build resilience in your organization. You create the culture that you want, by embodying the culture that you want.

CULTURED: If you had to make a list of three pieces of advice you'd give to a new founder, what would they be?
This may sound trivial, but write things down.
When you're creating a company, you must write stuff down! If you don't, so much gets lost and misunderstandings crop up early. We start with all these assumptions such as, "You want what I want," or assumptions about what it means to each of us. If you don't write it down, it's a lot harder to see where the misalignments are.

Also, being disciplined about documenting creates a better history, it's easier to learn from, it's easier to recognize when things are taking a turn in the wrong direction, and easier to see what's going right.

The second piece of advice is to be really intentional about culture from the beginning. The moment you get your first associate is when you need to think consciously about culture and about how you're going to build that culture. There need to be certain parameters established to make sure that you're nurturing and upholding that culture, and to recenter and review when you diverge from the path. A little bit of discipline in this area at the beginning of the organization's life has long term rewards.

The third piece of advice would be, "Communicate, communicate, communicate." At the root of almost everything is good communication. This means that there has to be a genuine intention behind the framework you create for communication. There's no one right way to do this, but it's important to be intentional about doing it and that you're monitoring to see if it's working, because things can go south very quickly, and the difference between a two-person start-up and a fast-growing organization is that there are increasingly large leaps and complexities in making sure the communication channels stay open and optimal for everyone's needs.


CULTURED: When you think about the future of leadership, what excites you the most, and what scares you the most?

I think that the consciousness that people bring to leadership today is encouraging. There's an emphasis on the importance of learning leadership and understanding different styles of leadership. We're recognizing that the traditional "Alpha Male" tough guy model of leadership is not so optimal. We have a lot more data today and one of the benefits is that it shines new light on the skills and attributes that are most important in leadership, including the importance of a diversity of styles and voices.

I don't really see many downsides in this. We're learning more, we're applying more. However, one of the gaps I see is still in leadership training for women. And by that, I mean leadership training starting from when you're a little girl.

Leadership is something that begins when you're a kid, when you use your skills to lead your peers. For millennia, with girls, this skill has been discouraged. "Don't be bossy" I can still hear my mother saying any time I was directing play with my friends. No one says this to a boy.

A lot of women still grow up with the influence of the princess fairy tales: be charming, be pretty and be very nice – the ability to talk to animals is a bonus. Above all, watch out for other girls and women since they're the ones that will hurt or poison you to compete for the prince. And, finally, if you do everything right, the prince might pick you and that matters more than anything for your happiness.

This narrative, even though we may laugh about it, is still out there in terms of lessons for little girls even though some more progressive tales are shifting the landscape. A lot of women still reach their 20s or 30s, having had few role models of successful women leaders in their day-to-day lives.

I'm a founding coach of the non-profit The Coaching Fellowship, an organization that works to give women leaders in the impact space the coaching that can help them augment their confidence and give them the support they need to help them level up in a critical time in their careers. I've been blown away by the powerful women leaders I've had the privilege of working with through the Fellowship and by seeing how a little guidance can help them soar. I am excited to see the myriad ways they will have impacted the world for the good over the next decades.
CULTURED: Are there any particular technological shifts that you're excited for right now?

One of the great things we have today is the data that helps us to make more informed decisions. The choices that we made in the past were more driven by opinions and feelings, which are often laden with bias. Nowadays, there are many new organizations that find ways to use this data to make better decisions, remove bias from the system, increase engagement, and so on.

On the flip side, technology is overwhelming us. I think the anxiety level that we have today in organizations is partly because we're ensnared by our constant connection with our devices. One of the most interesting books I've read in this context is "The Nature Fix" by Florence Williams. It's basically a study of what nature does for us, and how many positive effects it has, as well as all of the ways in which we're less connected to nature than ever.

The impact of having exposure to nature, being outside, seeing greenery, hearing birdsong, is tremendous in terms of everything from improving creativity to lowering depression and anxiety levels. It's interesting because, even though we say that we know that, when Williams' research found that people nowadays spend around 93% of their time indoors.

My biggest worry with technology is that we look to it for all the answers and to solve everything, including all of the ways to fix our anxieties and stressors. I worry about that when I have clients that are looking to apps like "Calm" for their mindfulness and I think, "Wait a minute; we've been doing mindfulness without technology for thousands of years!" We don't need more ways to connect with technology, we need ways to disconnect from technology; that's how we get calm and step into real mindfulness.

It's great that we have the technology for all these other things or that we have it for enhancing the way we work in myriad forms and to bring more intelligence to the table. I think the future of AI has incredible potential to take a lot of the tedium out of some of the work that we do and to make it more efficient. I think it's wonderful. But we also need to be much more mindful about stepping away from technology, for being in touch with ourselves, with others, and with nature in different ways.

CULTURED: Thank you so much for your thoughts and teachings, and for your time, Michèle!
—
Thanks for checking out our Expert Series! We publish new interviews regularly with People leaders from Fortune 500 companies, hyper-growth startups, and everything in-between. To stay in the loop, subscribe to our email newsletter here: Beyond the obvious: Hacks for high-performance leaders and teams.
Cover photo Photo by Josh Calabrese on Unsplash