In this episode of the Expert Series, we had the pleasure to interview Russell Lobsenz, VP of People at Socure.
We discussed the importance of thinking about company culture early in the company growth, the role of company leaders in finding a way to scale culture keeping the core values always present, and his experiences and expectations with current HR technology and trends.
Don't miss out on Russell's juicy bits of wisdom!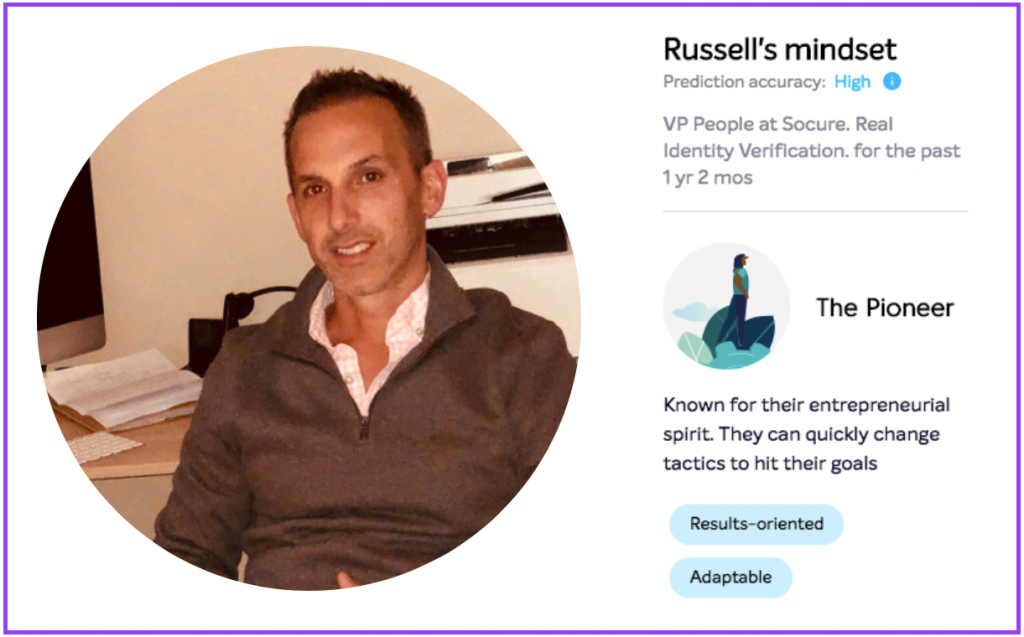 Can you tell me a little bit about your journey to where you are today as SVP People at Socure?

I actually started my career on Wall Street as a trader for one of the big banks. Like many recent college grads, I was attracted to the exciting world of finance as depicted in movies like Wall Street, and the fact that I could earn a lot of money. It didn't take long before my exuberance was replaced by disillusionment at the hands of an obnoxious and unethical boss and grueling hours. The good news is that it only took a couple of years to realize this wasn't the path for me.
I had done my Bachelors in psychology but had little interest in pursuing a clinical career. Rather, I wanted to apply my background in psych to business. NYU offered a Masters program in industrial/organizational psychology which allowed me to work and go to school at night. I took an immediate interest in I/O and after completing the Masters program, I continued on to get my Ph.D.
My first job after grad school was at the FBI. Imagine going to work and getting to rappel from helicopters, scuba diving in the San Francisco Bay looking for evidence, accompany elite members of HRT and SWAT on live missions, and help agents prepare for a life undercover. It was literally a dream come true. After 3 years, however, I realized I would need to broaden my skillset and exposure to other organizations if I wanted to advance professionally.
Over the next 10 years, I worked in large (Starwood) and mid-sized (Orbitz) companies, as well as a consultant, to venture capital and private equity firms, which allowed me to gain exposure to a variety of organizations and made my transition into the startup world more gradual. Socure is the 3rd startup I've worked for. I enjoy working in smaller companies because it gives me the opportunity to build functions and teams from the ground up.
Can you describe your current role? What does a typical day look like? What are some of the major initiatives you're working on? (if you can share). What do you love about your job?

Sure! Socure recently closed a $30m Series C investment round. We have an ambitious growth plan and want to double in size very quickly, so I spend a lot of time on hiring.

I also spend a lot of time working on how to scale our culture. A topic on many of our minds is how we will shape Socure's culture as we continue to grow. Up to this point, we've managed to scale a great culture without systematizing a set of company values. In this time of hyper-growth and opportunity, we need to affirm Socure's reason for being – our mission – and what should drive our actions as individual team members – our values. Few things are more important at our stage of our growth.
I love coming to work every day. The challenges are immense – in a good way! There is so much opportunity before us and I'm fired up about playing a small part in helping to seize it. Knowing that I have a supportive and engaged team with whom to collaborate on these challenges is incredibly motivating.

Why culture? That's not usually hire #2 in a people ops team.

My view is that it's never too soon to focus on people and culture. Obviously in the early days, one of the co-founders usually owns that area, but as you grow, it can't be just an ad hoc thing. Our founders and CEO saw early on that this was true, and agreed that we needed someone on this full time.

We're in the process now of defining our company values and trying to shape them as we enter our next phase of growth. I'm a big believer in the idea that "what got us here won't necessarily get us there", so we need to think seriously about this now that we've just raised a $30m series C round to take the business to the next level.
In your opinion, how do you scale culture?

It's an important question. I don't think that I have the final answer, but I have some ideas. First, you have to recognize that it's not easy and takes discipline. Next, founders/CEOs need to be honest with themselves about the type of company they want to be. It's okay to be aspirational, to a point, but if the vision for the culture is so far removed from what exists today it's going to be tough. Not impossible, but very difficult.
Companies then need to identify the attributes of the organization that they want to preserve and articulate them as company's values – really dig into the things you want to hold people accountable for, then get a commitment from everyone. It's a big undertaking, and it needs to happen collaboratively – incorporating top-down direction and bottom-up input.
"Everyone is responsible for company culture, but leaders have special responsibilities. They must be the most fervent advocates and role models for values"
Another key part of scaling culture is how values are operationalized throughout the organization. Nowhere is this more visible than in your hiring and termination processes. When you need to grow fast it's so tempting to be a little bit lax on who you hire – it's important to make sure that every new hire has a positive impact on culture.
That's how you truly scale culture.
What is the C-suite's responsibility in all this?

I think the draft of your culture code starts with them. If management doesn't buy into the stated values of the company, they'll throw them out the first time they have to make a difficult decision. In my eyes, they have to create the first draft and then give the rest of the organization an opportunity to shape and influence those values into principles that resonate with them and that they can live daily.

What other People-related challenges do you face?

The last few months, I've spent a lot of time sorting out our compensation strategy. Until now, we haven't really had a repeatable structure or process for benchmarking and making sure that we pay competitively. We can't compete with Google and Amazon on salary, but we want to make sure we offer a total package that's attractive for the same people that Google and Amazon are trying to recruit.

I'm also spending a fair bit of time on what I call "plumbing" – the basics like making sure we have efficient and effective processes and policies in place. I try to walk the line between not being overly prescriptive but providing some guardrails.

What role does analytics play in your job? What kind of data are you working with?

I'm a big believer in data-driven decision making, but we're still in the early days, trying to build out our analytics capabilities. We need to show that People Ops isn't a subjective function. The appetite for data is quite high here, given the business we're in. We are in the stage of creating the frameworks and implementing the technology that will allow us to analyze our people strategies once we have sufficient data.

What does your tech stack look like?

We're getting our infrastructure set up. Some of our recent initiatives include implementing BambooHR, as well as Lever for recruiting and Lattice for performance management and engagement. I remain optimistic that one day soon there will be a single, unifying platform that can integrate the data we collect from the different tools we use. Today, we're forced to export information from our different systems into Excel so we can generate the types of people analytics we need.

How would you say People Ops has changed in your time in the field?

I think one obvious change is that traditional employee relations, compensation, and hiring processes, historically, were not very data-driven. That's completely changed. So now the focus is on figuring out how to best collect data and how to best use it. There's so much new HR tech coming out. I remember when you pretty much had no tech options – you just used PeopleSoft or Oracle. Now there are so many options and they all integrate with each other much better than would have been possible in the past.

I'd also say a major difference is an increasing focus on culture and the work environment. The stakes are higher to make work a better place. We've observed more of a blurring of lines between work life and personal life in the world – there's less compartmentalization happening, and we as employers need to react accordingly.
What's your favorite part of your job?

Seeing people engaged! I remember that when I first joined Socure the office was kind of empty. People preferred to work from home and do their own thing. Now there's a buzz. Everyone is collaborating and stimulated by their colleagues – everyone's in a state of "flow".
What are you most proud of as a People Ops professional? What advice would you give to others?

I'd say my ability to adapt to different environments and different leaders. I've always tried to stay true to my values and to find a balance between doing what's best for the company and for team members. In terms of advice, I'd say be as open and transparent as you possibly can. Everyone appreciates it, and people can generally accept a decision if they understand how and why it was made, even if they don't 100% agree with it.
CULTURED: Thanks a lot for your sharing your knowledge with our community, Russell!
—
Thanks for checking out our Expert Series! We publish new interviews regularly with People leaders from Fortune 500 companies, hyper-growth startups, and everything in-between. To stay in the loop, subscribe to our email newsletter here: Beyond the obvious: Hacks for high-performance leaders and teams.