About this guide
With the spread of COVID-19 reaching the level of a global pandemic this week, many teams (including ours at Bunch) have opted to implement a mandatory work from home policy.
If your team has suddenly and indefinitely become 100% remote, it can be stressful to say the least. To make the transition a bit easier, we've compiled a 5-part guide to help you get up-and-running quickly.
The challenges of going remote during COVID-19
Going remote due to a pandemic is especially complex: not only are you dealing with the normal challenges of transitioning to remote work, but you're also dealing with the uncertainty of a global health crisis – and doing all of this with very little time to plan.
For that reason, this guide is designed to be lean and practical, and draws on best practice for remote work and crisis management.
Step 1: Address the situation
With major events cancelled, entire cities on lockdown, and some of the biggest companies in the world closing their offices, your team is already feeling a sense of uncertainty about their work life during the coming weeks – and that's on top of concerns about their health.

Right now, your team needs you to be extra communicative.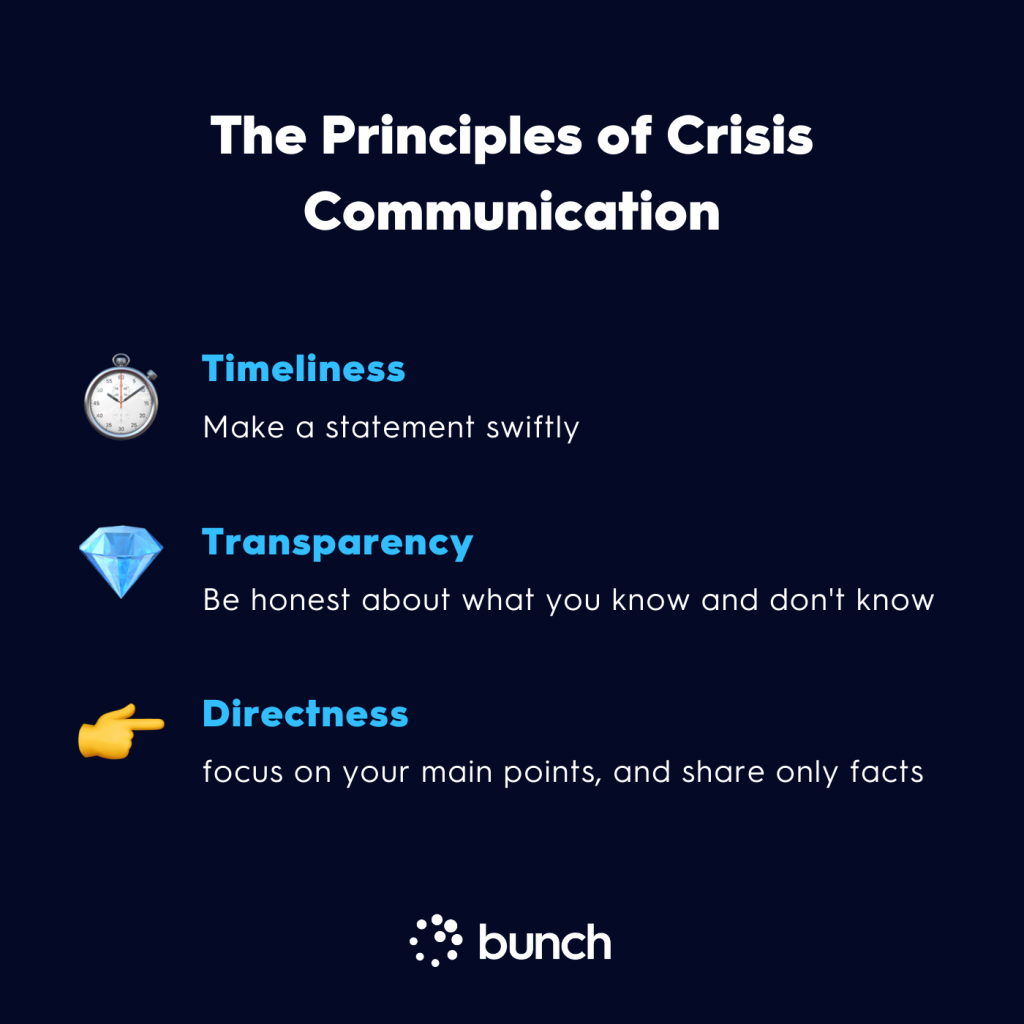 The Principles of crisis communication
To do this well, follow these 3 Principles of Crisis Communication: TIMELINESS, TRANSPARENCY, and DIRECTNESS. Here's how you can apply them with your team:
Timeliness
When you're facing a lot of uncertainty, it can be tempting to "wait and see". However, taking action quickly is imperative. The longer a situation goes unaddressed, the more likely it is that your team will quietly panic. Make a statement swiftly.

Transparency
Be open about the information you have, and what you don't know yet. Don't extrapolate, speculate, or pretend you know more than you do. Your team will appreciate your honesty and you'll build trust.

Directness
When talking to your team about the situation, focus on your main points, and share facts – not fear. Write down the key points beforehand to be as clear as possible in your wording – don't wing it.
What specifically should you share about Coronavirus?

Facts: Information about coronavirus from official sources, like the CDC
How it affects the team: working norms, like going from the office to home
Best Practices: Health practices your team can take (like washing hands, self-isolating, minimizing touching face)
Measures your company is taking: like wiping down surfaces and implementing a work from home policy
How your company will support the team: share if there's a number they can call, a Q&A session, counselling services, remote "open door" policy, or more
Step 2: Figure out what remote work looks like for your team
If your team primarily works out of the same office, the idea of going all-remote as a social distancing measure can feel daunting. Expect some bumps along the road, but there are some steps you can take to create a basic "way of working", or a remote operating system.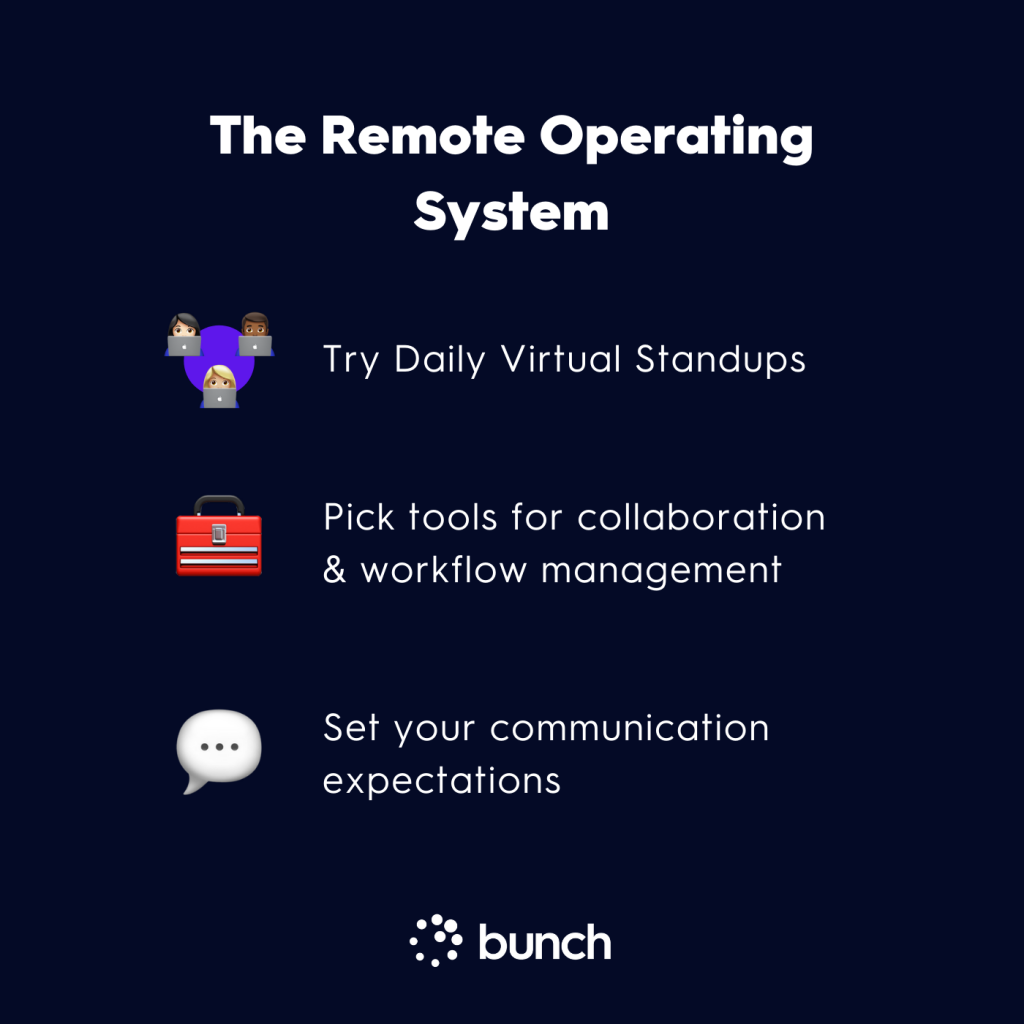 Set up your (lean) remote operating system
To get started, you'll need a basic setup for progress reporting, tools for managing workflow and collaboration, and some communication norms. Here are some tips for how to set your system up:

Try virtual standup meetings each morning

When you're dispersed, it's easy to lose track of what's going on in your team. To keep on top of progress, have a 15-minute virtual stand-up every day, where people share updates to these 3 simple questions:
What did you complete yesterday?
What are you working on today?
What are you blocked with?
This will keep everyone in the loop.

Pick 3-4 tools for collaboration and workflow management

To lead your team to remote success, you'll need to lean on your tools. At a minimum you'll need tools for:
Chat (ex: Slack, MS Teams, Mattermost)
Video (Zoom, Hangouts)
Documentation (Google Drive, Tettra, Wiki)
Tracking (JIRA, Notion, Trello)
If you're not sure about which ones to pick, Google something like "Slack vs…" and you'll find articles showing pros and cons for each. This is the quickest way to decide on a tool that works best for you and your team.
Set & share your communication expectations

When you go remote, one of the biggest challenges will always be communication: you have to be more intentional and thoughtful about it when you're not in the same room. Otherwise, you'll run into confusion or misunderstandings where it's not necessary.

It's best to create a list of "principles" or "communication rules to live by" while your team is remote. Some good ones are:

Use emojis to communicate tone in written messages
If you find yourself typing back and forth with someone on chat, call them instead
Acknowledge chat messages right away, even if you can't address the item immediately (you can type something like: "Seeing this now, will come back to you in a bit")
Turn on your video for all virtual meetings if you can, and start each one with 5-10 minutes of social time.
Tell the team when you're going to be unavailable for longer blocks of time, so they don't wonder or worry.
Step 3: Make sure your team feels a sense of connection
Remote teams can suffer from isolation and a lack social connection. That's why it's important to have remote rituals in place for team members to feel connected. Here are a few remote rituals you can implement in your team to boost morale and create that sense of connection: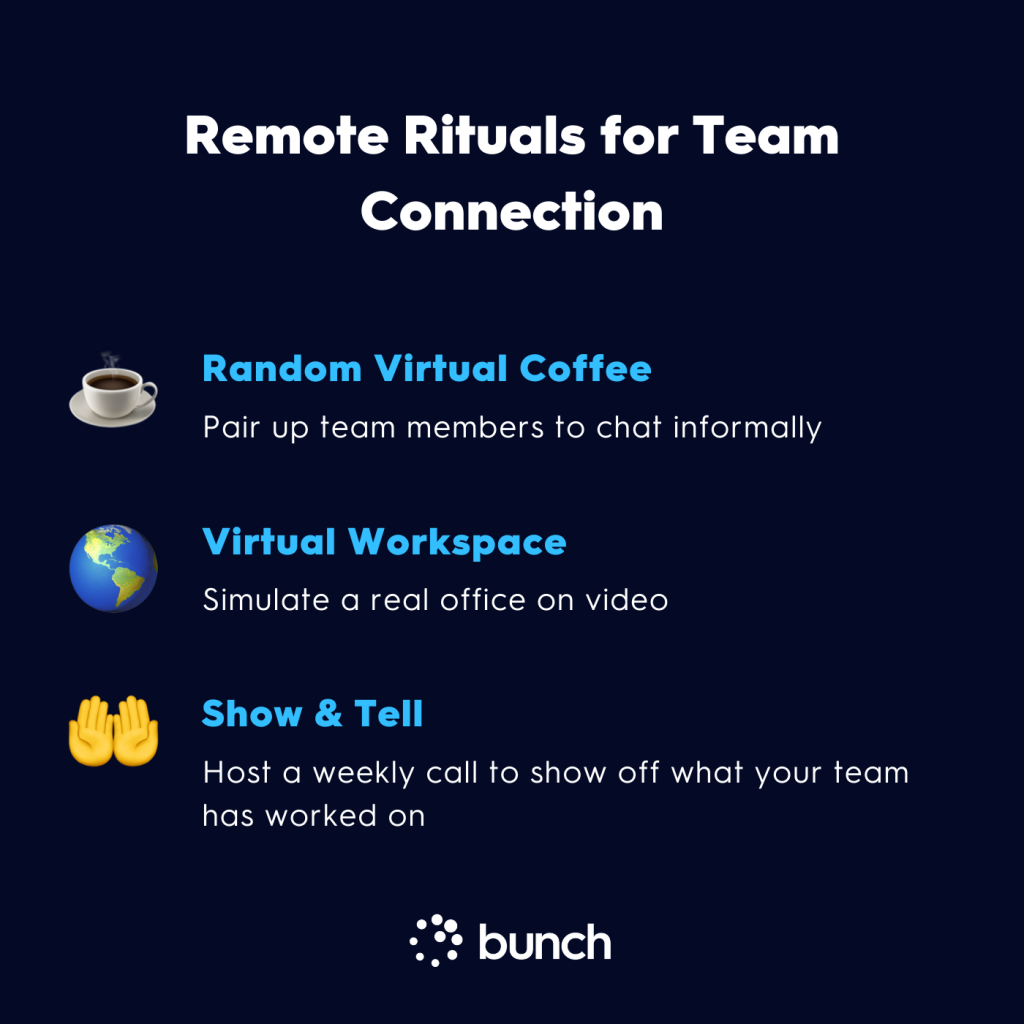 Remote rituals for team connection

Random Virtual Coffees
Pair up team members weekly for a "virtual coffee". They can use the time to chat informally and share what they're working on. These sessions drive a sense of connection, moral support and accountability, which keeps the team motivated to do great work. Try the RandomCoffees tool on Slack to pair people automatically each week.

Virtual Offices
Video calls don't have to be specifically for meetings. Sometimes it can be nice to simulate a real office and have people working on their own tasks, while keeping video on anyway. This makes it easier to ask ad hoc questions, exchange ideas, or have the occasional bit of chit chat. Most importantly, remote folks will feel more motivated when they see fellow team members focused and working. Just setup a channel on slack and post a zoom or google hangouts link whenever you want to create a virtual workspace with your team.

Show & Tell

Try hosting a weekly call where everyone gets to show off something they've worked on that week, what they accomplished and what they learned. Make it somewhat informal, and encourage people to ask questions and share personal updates as well.
Step 4: Help your team find balance
When your private and work spheres are merged, and many social and cultural events are cancelled, it can be easy to lose track of time and fall into a pattern of overworking yourself. Anyone in your team who already displays 'workaholic' tendencies is likely to have an even more difficult time than usual with this.

When you're remote, it's also harder for you to see when people are overworked, so distributing work can be harder than usual.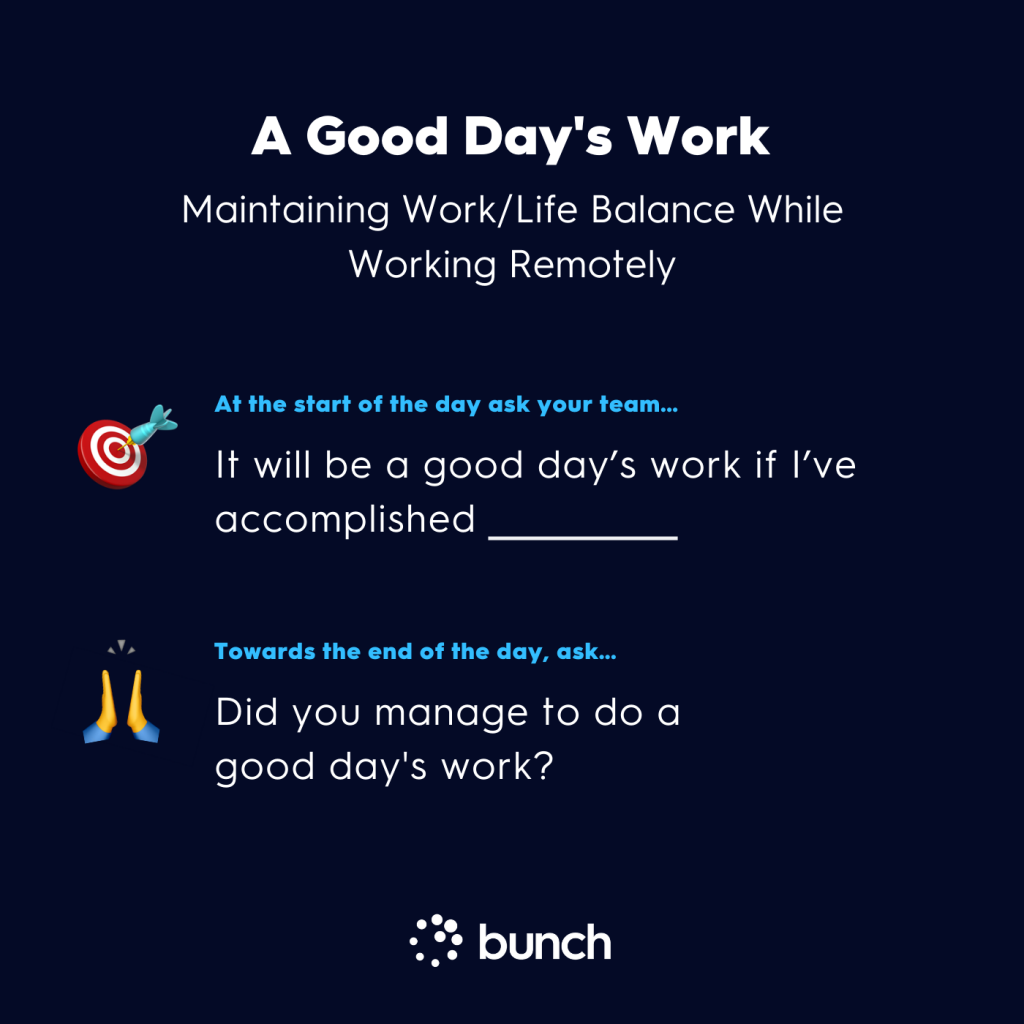 Focus on a good day's work
To help people out, ask them to focus on a good day's work. The idea is simple: At the start of the day ask your team to finish this sentence:

"It will be a good day's work if I've accomplished _____"

Then, reach out to them later in the day – around the time they should probably be thinking about calling it a day, and ask them:

"Did you manage to do a good day's work?

If YES, this is a great nudge to finish up for the day and stop working.

If the answer is NO, it's a good opportunity for you to help them re-prioritize, delegate tasks, or get support from others.

To apply this in your team, start by asking your morning and "end of day" question via a public Slack channel or in a morning standup meeting . When the whole team can see, it's easier to re-distribute work or delegate tasks. Stick to daily cadence at first, and consider making it a weekly ritual once you feel like your team has found a good rhythm.

Step 5: Give constant updates
During the coming weeks, the uncertainty around the impact of COVID-19 will at times create a sense of fear and have a negative impact on your team's performance and well-being. They'll have lots of questions about how long you'll be running remote, what other changes might come, and how their colleagues are holding up from a health perspective.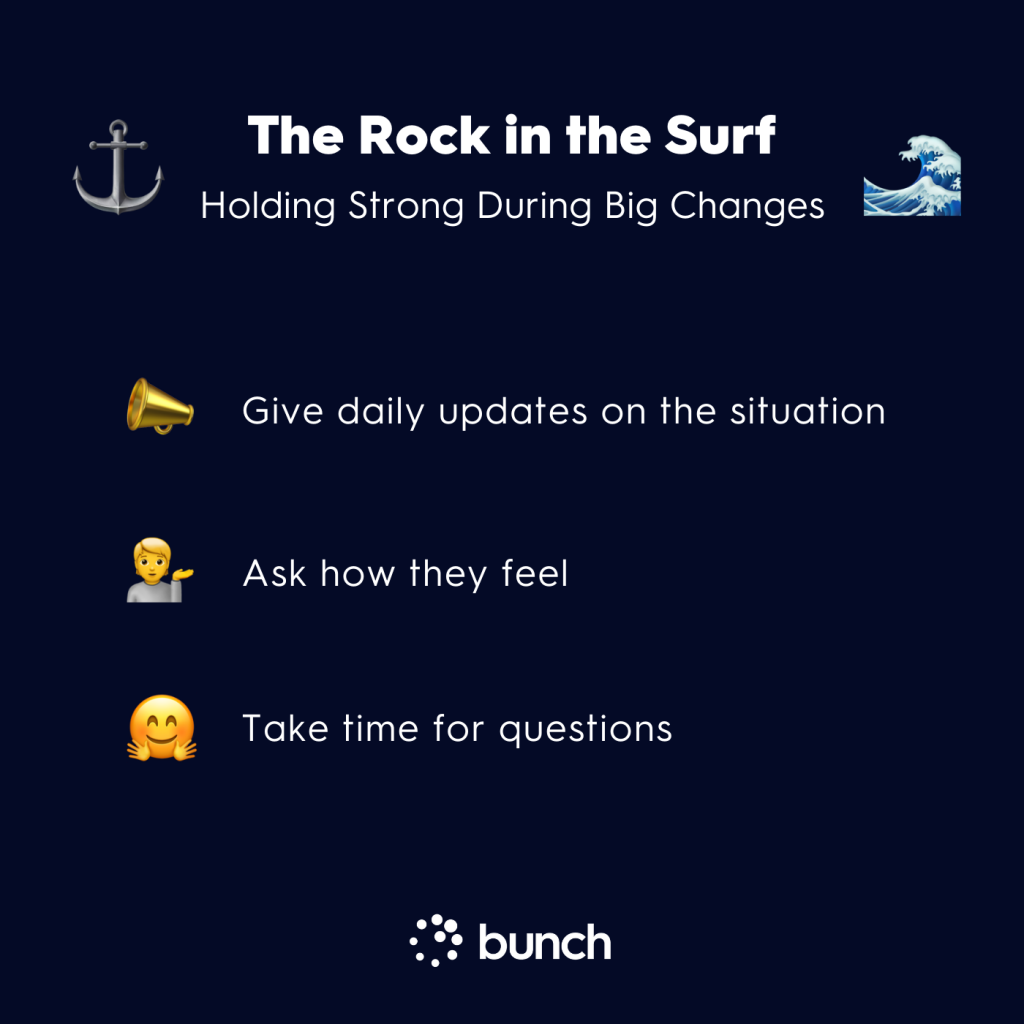 The rock in the surf

As a leader, you won't have all the answers, and the information you have at any given time might change. That's why it's important to have a Rock in the Surf: one thing that the team can rely on.

Here's how to create a Rock in the Surf for your team as part of your daily standup – or as a separate meeting each day:

Give an overview of the situation every day
While you might be tempted to avoid talking about coronavirus every day, your team will be reassured to have an update every morning on what's going to happen at your company based on what you know today. It will help them feel informed and more prepared- which, by itself, can decrease stress.

Ask how they feel
Give people an opportunity to share concerns – they'll feel better after voicing them, even if you can't immediately solve their problem.

Take time for questions
Team members might have questions you haven't thought of, so prompt them to ask any follow-up questions they might have. This will help reduce the feeling of uncertainty and build trust. Just remember to be honest about what you don't know.
You've got this!
As your team gets adjusted to remote work, remember that you're making the best of a tough situation. There will be hiccups, so don't be too hard on yourself or your team. Let us know if there's anything else we can help with!