When a new team member starts, you know you'll need to quickly gain their trust. It's imperative to your relationship and is best achieved from your very first 1-on-1. To help you get this right, we've turned to Julie Zhuo – Facebook's former VP of Product Design, and author of The Making of a Manager: What to do when everyone looks to you.
---
Build trust in just 2-minutes a day with tips from inspiring leaders like Julie, with the Bunch Leadership Coach.
---
When there is trust, teams feel more at ease to share challenges and vulnerabilities, which leads to more effective teamwork, and a deeper understanding of one another. Simply put, trust is having each other's backs.
So, how can you do it right?

"To manage people well, you must develop trusting relationships with them, understand their strengths and weaknesses (as well as your own), make good decisions about who should do what (including hiring and firing when necessary), and coach individuals to do their best." – Julie Zhuo
In her book, Julie provides insights into how you can build trust, not only from day one but also with more established team members using the 1-on-1 – including how to be vulnerable with your team.

---
Get better at building trust in just 2-minutes a day with tips from Julie Zhuo and other inspiring leaders.
---
Here are Julie's steps on how to build trust with your team members
Building trust with new team members

When a new team member starts, you have an incredible opportunity to listen to them and absorb everything they say. At the outset, setting up 1-on-1 meetings with new team members will ensure you keep trust on track.
In your first 1-on-1, Julie suggests to ask the following questions to get to know how you will work together:
What did you and your past manager discuss that was most helpful to you?
What are the ways in which you'd like to be supported?
How do you like to be recognized for great work?
What kind of feedback is most useful for you?
Imagine that you and I had an amazing relationship. What would that look like?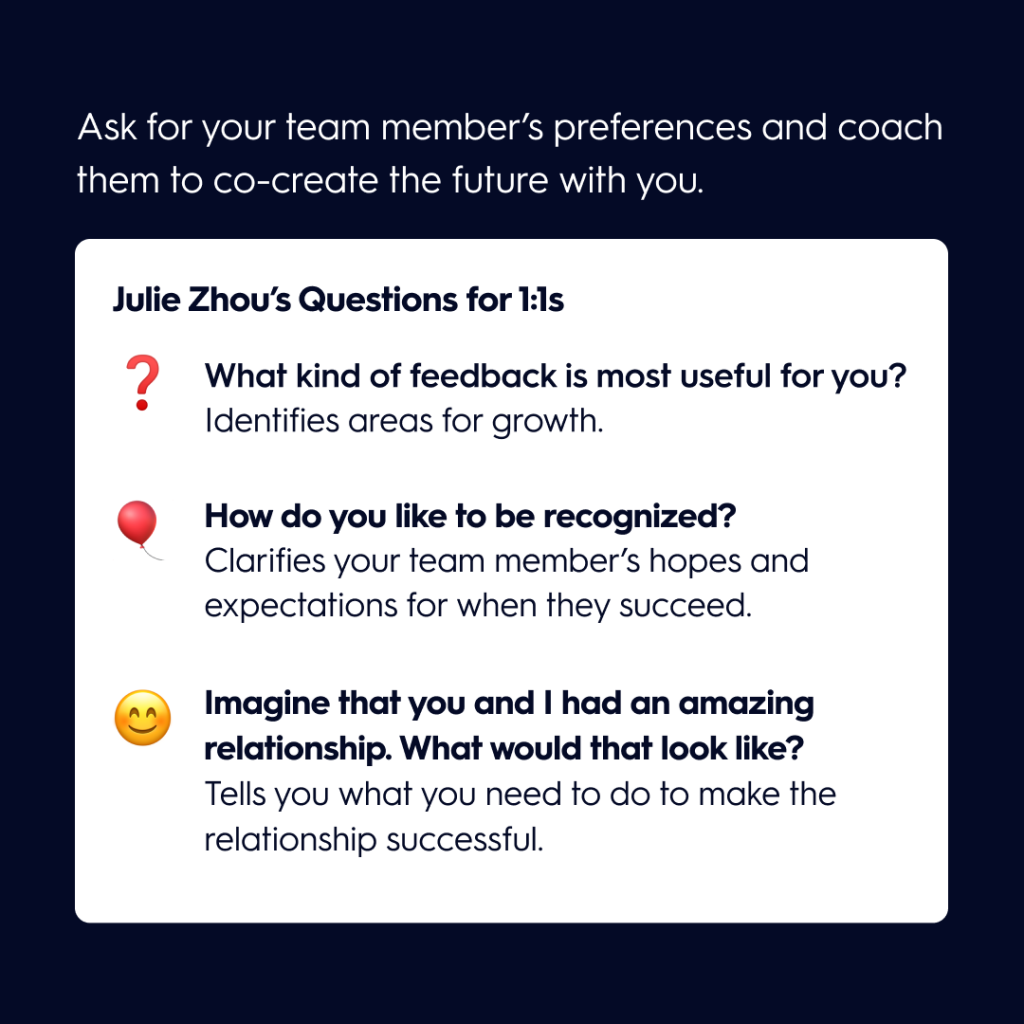 ---
Already have the Leadership Coach? You can role play this tip there! Open the app or get the coach now!
---
Renewing trust with existing team members

We've all been there. You know that feeling when the trust between you and a team member just feels 'off'. It can feel daunting to approach this at a later stage. Julie has some great ways to re-engage team members.
First, set up a regular 1-on-1 with your team members
Next, prepare!
Julie says preparation, or the lack of it, can make or break 1-on-1's. Plan out the agenda by asking your team members what they want to talk about in advance.
Here are some questions you can ask:
What's top of mind for you right now?
What priorities are you thinking about this week?
What's the best use of our time today?
Then, dig into the root of the problem:
Once you identify what's top of mind for your team member, you can move on to ask questions that help you understand the root of the problem, and see what can be done about it:
What does your ideal outcome look like?
What do you think is the best course of action?
What's hard for you in getting to that outcome?
Finally, you can ask questions to offer support to your direct report to further that feeling of trust.
Here are two questions that Julie likes to ask:
What can I do to make you more successful?
What was the most useful part of our conversation today?
---
Keen to learn more about Julie?
Julie has been interviewed and given talks on the secret sauce behind her management techniques many times. Here's some further listening, and watching to keep you inspired!
---
Use the Bunch Leadership coach for fluff-free recommendations – and get actionable tips to become a better manager instantly!
---