This is episode #1 of 8-episode 'hiring for mindset' series where we will reveal the mindsets of 8 key roles for high-growth companies including engineers, product managers, sales reps, marketing managers, and more. First off is Hiring engineers: The Developer Mindset.
TLDR;
The engineering mindset focuses on learning and collaboration
When interviewing for a job, engineers are typically interested in how you collaborate
When screening candidates, make sure you find out how resilient they are and how they manage change
Peeking into the mind of a software developer
You are hiring engineers and decided to keep reading? Great! In order to find the best candidates to join your tech team, it's important to understand what motivates engineers, what they care about and how to make sure you keep them engaged and productive. That's why we've analyzed over 1400 engineers on our database and found what out what makes up the mindset of a software developer: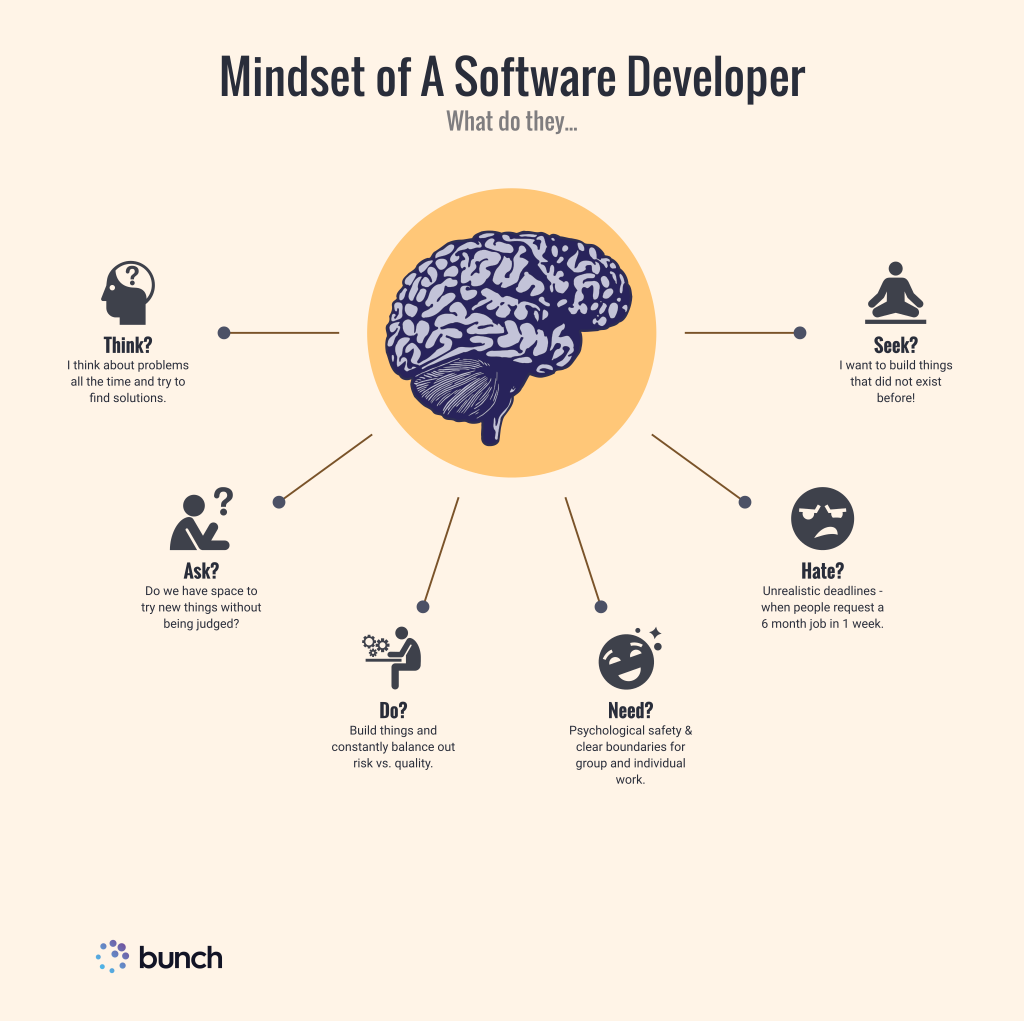 For software developers it's all about working with the team and constantly learning new things
Our analysis revealed that on average software developers care the most about collaborating with others and learning something new. They seem to care the least about customers and the market.
What does this mean? On average software developers focus on:
Building and maintaining trust & transparency within the team
Maximising the team's collective potential
Changing and taking advantage of new opportunities
Experimenting and 'learning-by-doing'
If you want your engineers to keep the users' and customers' needs in mind, you need to seek out the outliers. During the interview try asking them questions like:
How do you know whether what you're building is needed by customers & market?
How do you keep the big picture in mind, when managing changing priorities?
Overall, knowing the mindset of a software developer can help you get the most out of the candidates in your pipeline. Thus, if you are hiring engineers and want to use this data to align your team, feel free to grab a free account at bunch.ai and get started!
Wait there's more!
In our next episodes, we will reveal how these roles compare to each other and provide data to answer questions like: How collaborative are marketers on average? What is the mindset of a leader?
About Bunch.ai:
For those of you who don't know us, our platform uses a scientifically validated methodology from Stanford University's Graudate School of Business that measures 6 clusters of behaviors that is displayed in workplaces. This research was conducted by Professor Charles O' Reilly and we've productized his findings to help you to hire the best talent and build high-performing teams.