Sun, summer, smart people. Every year in summer we gather friends and customers on our rooftop to enjoy Berlin and great company. Last year, one of our co-founders happened to be among the crowd – this year, he was one of the hosts. Last year, we organized the party ourself – this year, we partnered up with the amazing team of health tech startup iRewardHealth.
Party … and Work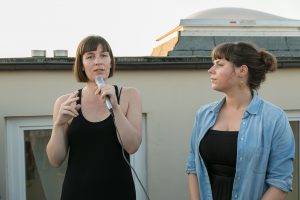 But our summer party is more than just a party. We initiated it also to have honest discussions about how we want to lead, follow, learn and grow teams and organisations in the future. Therefore we invited leaders in the field to inspire you and us – and to spark conversations. We had the pleasure to welcome Jenny Buch, Head of Talent at early stage Investor Point Nine Capital, as well as Jenny Jung, who has been working with fast-growing businesses in the digital space for the last decade. Her previous roles include VP People / VP Operations at EyeEm, Portfolio Manager at the VC firm Lakestar and founding member / COO of Factory Berlin. This set-up brought together folks from established service-based players like Egon Zehnder and Allianz as well as SaaS companies that serve the people leaders & teams, like Small Improvements. 
In case you missed the inspiring talks, we summarized a few of our learnings for you:
There is no easy answer to how we will work in the future. The good news is: the future will be whatever we make it. So pick a team and a topic and let's go!
Leadership is not a role-, function- or a person-based concept, it is not simply "a job". Many different thesis's around the topic of leadership were discussed. Two ideas stuck out: It is an attitude (according to Jenny & Jenny from Mindtheleader) or a set of behaviours (according to our Bunch set of assumptions). Either way its not as simple as "naming a leader" and then relying on him or her to handle the leadership-part of the show. It will take a whole teams to enable leadership, embrace the attitude and display the behaviours that help lead the path forward.
Established players are looking to us – startups: Despite of not having clear answers to each and every topic of future work and collaboration, established players are looking to us – startups – to keep asking uncomfortable questions and questioning the status quo to surface the future piece by piece.
Diversity stays a hot topic. We've moved on from simply discussing ethnic or gender-based diversity concepts. It seems that we've established a baseline: including all parts of society in the value-creation process in equal ways is not only a good idea from an ethical point of view but also enables better decision-making patterns and higher performance levels. The question of cognitive diversity was brought up. But it felt that we don't have good enough answers yet. PS: So if you feel like having a conversation on that topic, drop us an email.
HR is dead, long live HR. Human Resources is for sure an overhauled term and belongs to the past. People-related questions and topics are as alive as never before. Our party guests that work in people operations and people related roles were consulted and interviewed as experts by their non-HR focused manager counterparts.
Relax – Berlin Style
So yes, we talked some business. But of course we also have enjoyed our rooftop party Berlin-style with cold Becks, Moscow Mules, live music from the hugely talented LAEN and an unforgettable sunset! Also check out our Facebook Album with more pictures and share your love for bunch with a LIKE.