Introducing culture analytics for Slack data, powered by machine learning
Over the past weeks, the Bunch team has worked incredibly hard: it was no surprise to find Charles and the team still coding away at 2am on a Thursday. We've finally reached an important milestone, and it's nothing short of ground-breaking. Similar to Michal Kosinski and his colleagues' technology to predict personality from Facebook likes, we've developed way to predicts the cultural norms/priorities of team members by analyzing their online communication data, in this case, their public chat history on Slack. This has huge implications: for an algorithm being able to read and understand company culture from digital communication threads will revolutionize teams and organizations are built.
Up until now, understanding the factors that make or break a team and how to help a team realize their full potential was an area of expertise reserved for scholars, managers, leaders, and third party consultants. From now on, anyone on a team will have access to instant, real-time behavioral insights on what makes the team tick and can take action with tailored culture hacks used by leading companies like Airbnb, Zappos, and Slack. Anyone who can impact their team is empowered to become a leader. Personally, I could not be more excited about this. Unlocking the true power of teams has long been my personal mission and Bunch's raison-d'etre, and I am thrilled to get one step closer with this new launch.
Less than 6 months ago, we launched our MVP based on a culture profiling model developed by Charles O'Reilly and previously validated by leading tech companies like Apple, Intel, and others. Since then we've won companies like N26, Fraunhofer, and Egon Zehnder as customers and have proven the value of the model in business practice.
With today's release, we're stepping things up to a whole new level. With Bunch, you're now able to:
Analyze chat data from Slack to measure team cohesion and an array of significant company culture dimensions (adaptability, results-orientation, focus on principles, customer-focus, collaboration and detail-orientation) in teams.

See your team's current standing at a glance and take action if necessary (whether you are a team leader or a member).

Benchmark your team against other teams and make sure you are making the most of your potential.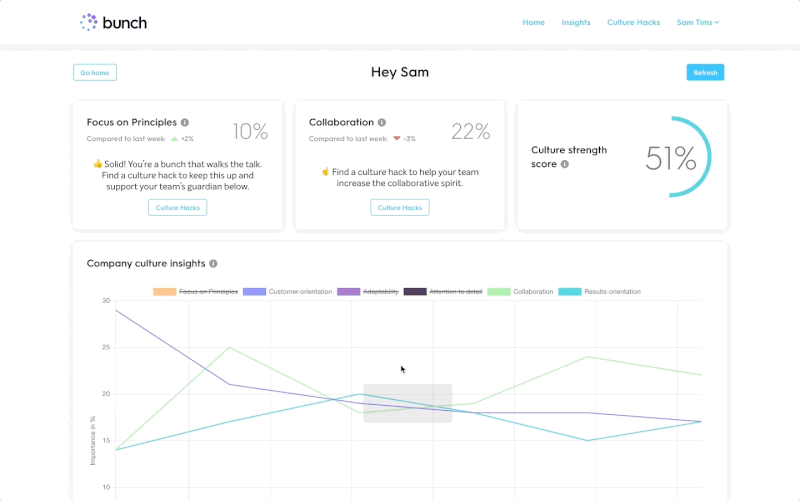 According to a recent McKinsey study that looked at barriers companies face when preparing for digitization, team culture is the #1 barrier to digital effectiveness. Our machine learning core analyzes communication data utilizing models based on NLP techniques and psychological research by leading scholars. With Bunch, companies and teams are now able to directly and immediately measure their cultural strength and take lean & iterative steps towards a stronger and more adaptable culture, making them future-ready.
In the coming months, we'll be releasing integrations with Github, Jira, G-Suite and employee feedback tools, such as 15five and cultureAmp, to enable learning and actionable insights for every team that onboards Bunch. I'm thrilled and excited to be working with our team towards our mission of increasing every team's impact through better collaboration. If that inspires you, join us! We are looking for new team members.