Most companies have experienced it: tension in the team, different cultures, ideas clash, conflict comes up. While others step away from conflict, Anthony Reo, the Product Co-Founder of Bunch, is taking it heads on. After studies in the US and a thesis on the power of productive & creative conflict as well as a 2 year remote stint in Budapest, Anthony decided to move to Berlin and join the team at Bunch with the same goal – to help teams address differences and collaborate successfully. To give you a glimpse about who he is, we've sat down to chat with him.
Anthony Reo – Diplomat, Team Player, Product Manager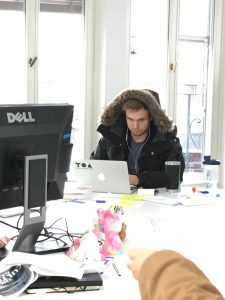 When you enter the Bunch office all team members are in execution mode. The rooftop space is small, in summer hot, in winter freezing. "Ideal conditions to not get too comfortable", says Anthony with a smile. Now, about a year after he joined, Anthony has acclimated. "It took me a while – I guess nine months to truly arrive in Berlin – now I am home here. And fortunately, with the Bunch team I also found a second family."
Anthony is one of eleven team members at the young company with an office in the heart of Berlin. Eight of the "Bunchees" are from abroad and bring their own cultures into the team. Anthony is the only American and came all the way from Washington D.C. to Berlin.
Born on the West Coast of the U.S., Anthony moved to Washington D.C. as a child. Emerged into the ever present political aura of the capital city, he decided to attend George Mason University to study conflict analysis & resolution and was on track to study and practice conflict management. Anthony not only learned from the best in the field regarding stakeholder management, facilitation, conflict management, and negotiation, he also founded the honors society that still runs today. "I see conflict as natural and creative and was really motivated by the idea that we needed to learn how to control it in order to provide ourselves the freedom and space to create valuable things and ultimately a better world", explains Anthony. "But I still wrestled with a conflict of my own – I wanted to be creative, hands on, and build great products as well as make a social impact. And the government/non-profit world wasn't cutting it. That's when I discovered startups and product."
Berlin had an edge – Washington did not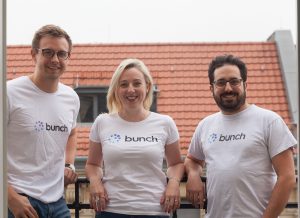 He was only 20 and when he was pulled into his first startup gig – a social venture that took him around the world with a mission to help companies be more transparent but always had is eyes set on Berlin for its creativity and history. It was the edgy startup feel that contradicted Washington's political atmosphere that drove the young founder to Germany. Eventually, a few months after committing to Berlin, Anthony found his way to Bunch."I met Darja and Charles, my two co-founders, at the Bunch summer party of 2017. We talked until 2am and hit it off really well. Now I have the best job in the world and work closely with our design and engineering teams and selling the product." Anthony works alongside the other co-founders and the team to validate assumptions and build the product.
"My main obligation is to go out of the building to validate my ideas before bringing them to the table."
From the outside, Anthony's academic background might not seem the most typical. But Bunch is not the most typical tech startup either: "My unique background and degree is not really applicable to all tech roles. But at Bunch it works well. Our vision is to help teams solve conflicts and collaborate successfully together by bringing together two worlds: social science and data science. And outside of the formalities around agile, design-thinking and lean startup, product is largely a facilitator role with a primary responsibility to hold the vision and give our brilliant makers the space, safety and information they need to build something that changes the world.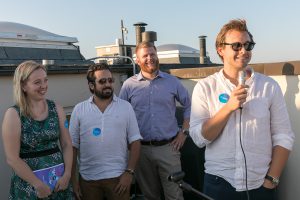 While the young team is mainly focused on polishing the product, Anthony's days are long and challenging. "Bunch is the most driven and passionate project I ever worked on and we are in a tough space. And as a young founder you have to be insanely passionate about what you are doing. Otherwise you go crazy because the sacrifices are so obvious."
And yes, as in all other companies, Bunch has its conflicts. "We all dream of a world where every team and every leader can build and scale by transforming the natural frictions into something constructive, including ours. So we are building for ourselves just as much as our customers."