Back in February, we announced that our team at Bunch was embarking on a new challenge: to build an AI leadership coach.
Our mission is to help every manager become a great leader – because being a leader is hard, and most teams struggle with ineffective leadership and so so so many teams fall short of their potential exactly because of that.
Knowing how to effectively lead other people and being good at it is a superpower that typically is acquired over years and years of managing teams. However, not many people know: it has little to do with talent or your title and everything with how quickly you can learn and get better at it.
It's not rocket science, but the information you need to be a great leader often just aren't accessible. It's buried in management books, seminars or behind $200 executive coaching sessions.
As a result, millions of founders and managers fail to reach their potential and stagnate in their progress towards ambitious goals.
We started on our path to building an AI coach because we believe there should be a better way that is accessible to anyone who wants to get better at it. No matter the job title or whether you are already leading people and building your team, or if you're thinking about doing this in the future or if you simply want to become better in supporting your current team as an individual contributor.
I'm excited to say that we've made significant progress on our quest.
After months of constant iteration and working closely with over 300 initial alpha users that work in companies like monday.com, Blinkist, N26, Snap Inc. and others, I'm thrilled to unveil a sneak peek at the coach and announce that we've rolled out our public beta – with a slick new visual identity too!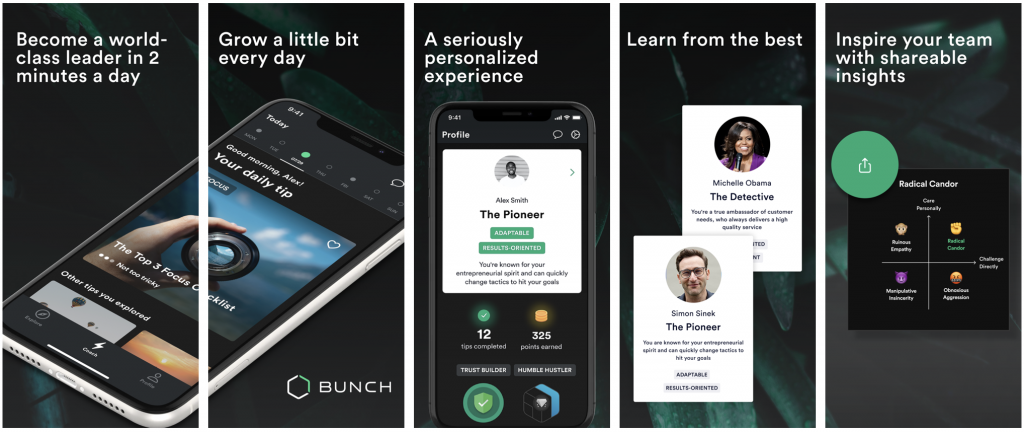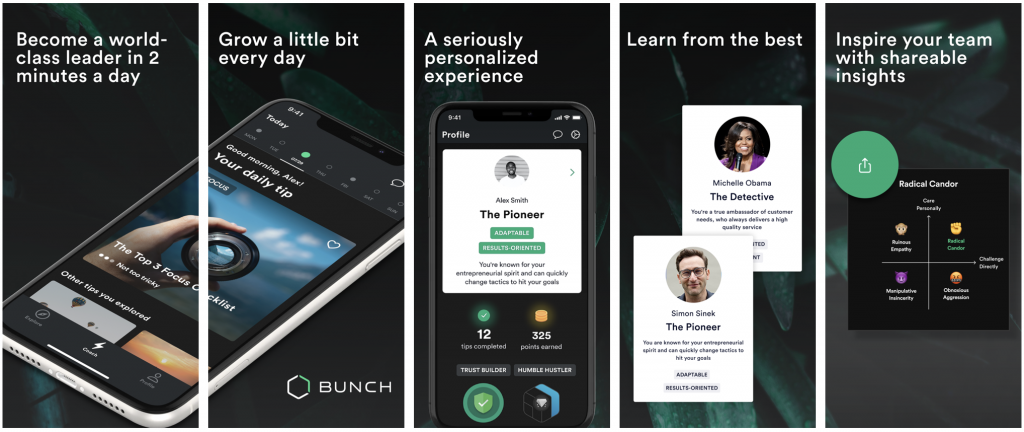 ---
The Promise: Become a world-class leader in just 2-minutes a day
As the new generation of leaders you are ambitious, growth-minded, and very f*cking busy. When we thought about how to best enable you to learn and grow, we realized that the world doesn't need another leadership course, consultant, or guru. Instead, leaders need an easy way to make constant progress on their own terms. With the Bunch coach, you'll see that we've kept this in mind the whole time.
What can you expect?
Grow a little bit every day

They key to the Bunch coach is continuous improvement: knowledge compounds just like interest on an investment. It starts out small, but before you know it, you've accomplished something special.
To do that, our goal at Bunch is to take all the world's knowledge on leadership and breaks it down for you in bite-sized chunks to enjoy two minutes at a time – because most leaders don't have time for much else than doing their job.
With Bunch, you leverage idle moment or easily fit growing as a leader into your daily routine. It's perfect for your morning coffee, your commute, or any other time you might normally be browsing Instagram.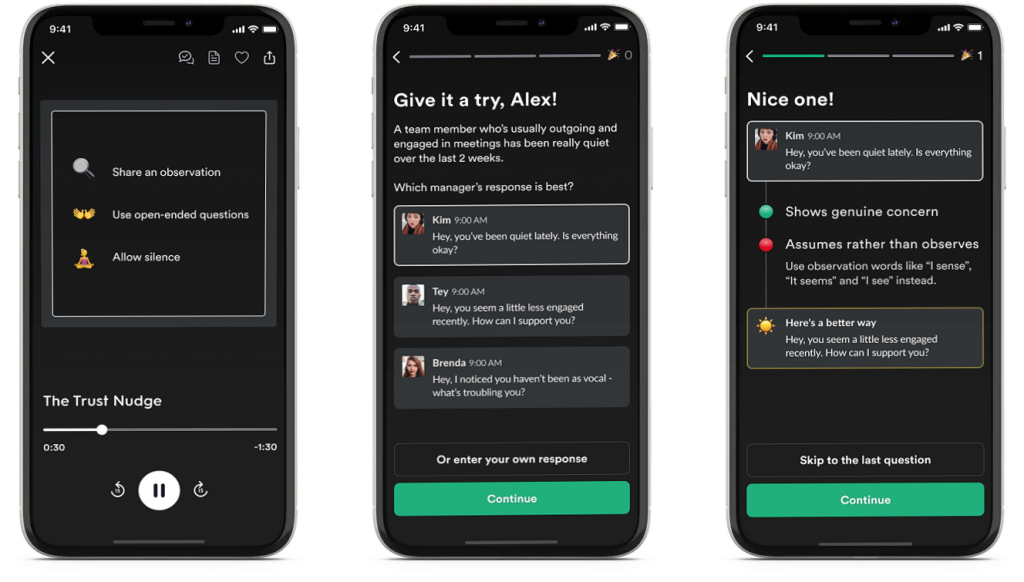 A seriously personalized experience
Your coach will get to know you over time, and tailor advice for you based on your leadership style, your skills, and even your calendar (beta). We have created a smorgasbord of features each designed to learn about your personal learning style, so it only gets better!
Find your leadership style
From the moment you open up the coach, it's getting to know you. As soon as you open the coach, you'll be guided through a series of quick-fire questions to drill into your leadership style. We know there's no one-size-fits-all ( that's why we dislike standard group training so much) so your experience will be different to your colleagues.
We've created 14 leadership styles or profiles – we like to think of them as your superpowers. The coach uses your leadership style to recommend personalized tips and hacks. Each profile is based on the cultural framework developed by Charles O'Reilly (Stanford GDB). You can read extensively about his 6 dimensions of company culture.

Fast feedback loops so your coach gets better every day too
After each tip, you'll be prompted to give it a super-quick thumbs-up or down rating. This quick feedback loop helps to train the coach in the tips you enjoy and the ones you don't. The AI part of the coach remembers this and will show you less of the ones you didn't enjoy and more that you do further tailoring your overall experience.
Learn from the best

Tips from Bunch are inspired by the world-famous leaders, vetted by elite leadership coaches, and summarized for you by our team.
Tips inspired by famous leaders
Consider Bunch as your leadership journey curator; we find and deliver tried and tested advice from other leaders for you. The core Bunch difference is that we demystify complicated mental models, giving you the core information with zero BS – so you can get to the top of your game, faster.
The Bunch Coach summarizes big ideas from top leaders, and curates them for you based on your interests and your leadership style. Here's an example based on Kim Scott's famous concept, 'Radical Candor':
The coach draws on expertise from leaders like Jeff Bezos, Julie Zhuo, and Patrick Lencioni, and so many more!
Vetted by our community of coaches and leaders and curated by our team

A big part of our vision is to lean on the real experience of leaders in our community to better curate and recommend leadership tips, so your coach will be consider feedback from you peers before recommending something for you. In that sense, we aim to build a network of leaders who lean on both the coach and each other for support. Here's what a couple of our early community members are saying about Bunch so far:
---
Want to give it a try?
We just submitted the beta version of the Bunch coach to the iOS App Store, and you can now simply download it from the App Store.
The coach is free to use during this initial beta period, and should give you a sneak peek of what's to come when the full version of the coach launches in a few months. Big things are coming! 🙌